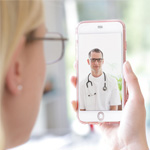 With its most recent batch of funding application approvals – the 13th – the FCC's Wireline Competition Bureau has almost exhausted the amount allotted under The CARES Act that was passed in March to expand FCC telehealth funding in the face of the COVID-19 pandemic.
The 70 latest approvals are for $31.63 million in funding. That brings the total to $189.27 million of the $200 million in the law.
New York State got the most approvals with ten. Other states with multiple approvals are Pennsylvania (5 approvals); Indiana and Ohio (4 approvals each); Kentucky, the District of Columbia, Alabama, Louisiana and Massachusetts (3 approvals each) and Washington, New Jersey, Wisconsin, Florida, Wyoming, Connecticut, Michigan, Arizona, Nevada, Missouri, Michigan and Mississippi (two approvals each).
There were three $1 million winners in this group:
The University of Alabama at Birmingham Hospital (Birmingham) was approved for $1,000,000 for telemedicine carts, remote patient monitoring devices and platform subscription, videoconferencing equipment, wall-mounted telemedicine units, and tablets to provide home-based telehealth services for patients, to augment remote patient monitoring for all patients including patients in the heart clinic, pregnant women with gestational diabetes and hypertension, diabetic patients, and discharged COVID-19 patients.
BMS Family Health and Wellness Centers (Brooklyn, NY) was approved for $1,000,000 for desktop and laptop computers, smartphones and data plans for patients, remote monitoring equipment, a remote monitoring platform, and videoconferencing equipment.
Montefiore Medical Center (Bronx, NY) was approved for $1,000,000 for a telehealth platform, telehealth intensive care monitoring equipment, telehealth workstations, laptop computers, tablets, and videoconferencing equipment.
Not all the FCC telehealth awards were for big ticket items or projects. The most modest:
Pulaski Clinic in (Somerset, KY) was approved for $6,327 for laptop computers and cameras to use remote capabilities to provide outpatient mental health treatment for current and new patients because of the COVID-19 crisis.
Southwest Health Center (Platteville, WI) was awarded $6,344 for tablets and videoconferencing equipment and software to use telehealth for urgent care, primary care, orthopedic care, and mental health therapies for geriatric patients.
Last week, the FCC announced 77 awards worth $29.41 million. That brought the total at that time to $157.64 million.