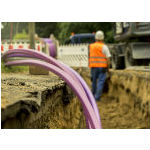 The FCC said today that it has made new offers of broadband support to 516 rural carriers. The new FCC broadband support offers target more than one million homes and businesses and are based on the ACAM (alternative Connect America) cost model. The offers went to rate-of-return carriers that previously rejected or weren't eligible for ACAM broadband support.
If a carrier accepts a new offer, it will receive funding over a period of 10 years and will be required to meet specific build-out milestones over that time. Carriers receiving the offers have 45 days to decide whether to accept the offers or to remain on the traditional high-cost Universal Service program, which has less aggressive build-out requirements and which calculates support based on embedded costs.
Those carriers that opt to accept the new ACAM offers will join 262 companies that already opted for ACAM support.
ACAM Broadband Support
The new ACAM broadband support offers result from a decision made by the FCC in December to increase the minimum broadband target speed from 10 Mbps downstream and 1 Mbps upstream to 25/3 Mbps. Previously carriers that already had deployed 10/1 Mbps service to 90% or more of their service territory were not eligible for ACAM support. Carriers accepting support were required to deploy service at speeds of 10/1 Mbps or higher to locations that couldn't already get service at that speed.
When the FCC adopted the new target speed, officials said the new ACAM offer would be extended to virtually all rate-of-return carriers.
Carriers that were already receiving ACAM support received new offers based on the new speed target earlier this year and just last week, the FCC announced that nearly all those offers were accepted.
Rural carriers will see their broadband build-out requirements increase even if they remain on the traditional support mechanism. According to an FCC press release, carriers on the traditional program previously were required to deploy 10/1 Mbps service to 115,441 locations. If all those carriers were to remain on that program, they would now be required to deploy 25/3 Mbps service to at least 600,535 locations.