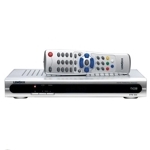 As expected the FCC at today's monthly commission meeting adopted a notice of proposed rulemaking (NPRM) aimed at eliminating the need for consumers to lease a set-top box from their pay TV providers. The NPRM also proposes guidelines for creating new types of STBs or software-based alternatives. One of the most compelling of these capabilities would enable consumers to search for over-the-top video content from the Internet – a feature that supporters say would help create more programming competition and alternatives.
Opponents, including the FCC's two Republican commissioners, raised a range of objections. Commissioner Ajit Pai argued that "Set-top box manufacturers could profit from content produced by others" by replacing commercials originally included in a content stream or adding their own.  He also expressed concern that the initiative would discourage pay TV providers from developing their own apps.
Commissioner Michael O'Rielly expressed concern that "an entire class of innovators will be reclassified" as TV providers. He also questioned the practicality of the FCC driving new standards efforts.
"The commission's response to most of these concerns boils down to 'Trust us, it will be OK,'" said O'Rielly. "Or rather trust currently non-existent entities like an organization that is not affiliated with [pay TV providers] to come up with a security system to protect content."
The FCC Set-Top Box Proposal
FCC Chairman Tom Wheeler attempted to counter these arguments by noting that "the issue isn't complex." Wheeler noted that today's STBs are responsible for service delivery, entitlement authorization, relaying of user selections and delivery of programming and that the STBs or software apps that the FCC is proposing would provide the same functionality.
"So what's the difference?" asked Wheeler. The answer, he said, is that "one is closed and one is open."
Wheeler said the FCC is following a statutory mandate to ensure competition in pay TV navigation devices. The other Democratic commissioners Mignon Clyburn and Jessica Rosenworcel noted that consumers pay an average of more than $200 yearly to rent STBs from their pay TV providers and that the new initiative aims to eliminate that requirement. Rosenworcel added, though, that she felt the proposal might be overly complex.
As outlined by FCC officials at today's meeting, the guidelines proposed in the NPRM appear quite similar to what officials outlined in a press briefing several weeks ago.
Past efforts by the FCC to make the STB market more open have had little success, and if the latest FCC proposal is adopted, I would expect it to be equally difficult this time around to find companies willing to make the investment to build hardware in competition with the existing STB duopoly. The possibility of someone developing an app to provide STB functionality might be more likely, however. The ability for the app to include broad OTT search capability (beyond the YouTube and other basic OTT search capability available today) would seem to be attractive to many consumers. Another possibility is that the threat of an open standard TV app could spur the pay TV industry to develop that capability for existing proprietary apps and STBs.
As Wheeler reminded people at today's meeting, "nothing about this [proposal]requires [consumers] to stop using the system they have right now."