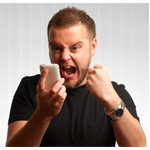 The FCC today adopted an order detailing how the commission will implement certain aspects of the rural call completion act that became law early last year. The order establishes service quality standards for intermediate carriers that carry but do not originate or terminate calls to rural areas and who have been deemed largely responsible for ongoing problems with calls not being completed to rural areas.
According to one official at today's FCC meeting where the order was adopted, today's actions complete the work the commission was directed to do by the act. But the two commissioners who approved the order in part and concurred in part – Jessica Rosenworcel and Geoffrey Starks — said the quality standards are not detailed enough.
The service quality standards build on previous action by the FCC to implement the act by establishing a registry of intermediate carriers. Among other things, the standards adopted today require intermediate providers to:
Take steps reasonably calculated to ensure that all covered voice communications traversing their networks are delivered to their destination
Monitor the performance of any directly contracted intermediate providers when routing calls to rural areas
Ensure that any intermediate providers to which they hand off calls are registered
Starks, who previously worked in the FCC's enforcement bureau, expressed concern about whether intermediate providers would be able to monitor other intermediate providers and about some of the language used in the order that limits intermediate provider obligations to "tools available" and to "using commercially reasonable efforts to alert other providers."
"These small like loopholes that will be irresistible to this notoriously hard to pin down group," he said.
He added, though, that he was pleased that the order includes a plan to seek comment in one year on how well the standards are working out.
The Rural Call Completion Act
Congress adopted the rural call completion act after previous efforts by the FCC were unable to fully address concerns about calls not being completed to rural areas. Some intermediate carriers have failed to deliver calls to rural locations as a means of avoiding the per-minute access charges that are paid to rural telephone companies serving the rural locations. Those charges are higher in rural areas to help cover the higher cost of delivering service to those areas.
The FCC took various actions over the past few years to curb rural call completion problems, including reaching substantial settlements with several retail carriers that used intermediate carriers that were alleged offenders, but problems continued.