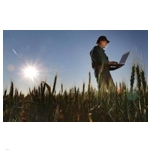 The Federal Communications Commission has provisionally chosen nearly 40 entities to receive funding in the commission's rural broadband experiment initiative. Among those chosen are 14 wireless ISPs, seven local telephone companies, four power companies and two cable companies. Other winners include competitive carriers that use landline or a mixture of wireless and landline technology, along with municipalities and organizations whose exact business type isn't clear.
Individual winners have tentatively been awarded as much as $4.45 million toward the cost of bringing broadband to rural areas where broadband is not available today. As planned, the total amount of money awarded was nearly $100 million.
The goal of the rural broadband experiments is to gather information to help in shaping the competitive bidding process for the Connect America Fund broadband program. Competitive bidding will be used to determine who receives support – and the support level — in the event that one of the nation's largest price cap carriers declines to deploy broadband in its local service territory at the amount of support funding offered by the FCC based on a cost model.
The FCC said previously that it would award funding for the rural experiments based on which applicants offered to deploy service at the lowest level of support. That being the case, it was interesting to see that no single type of company or technology dominated the list of provisional winners.
It isn't always possible to tell from company names what technology winners plan to use. But it's logical to assume that the WISPs will use wireless options – and some other entities also could be planning to use some form of wireless. At least two awardees – Terastream Broadband and Declaration Networks – are pioneers of technology that uses vacant spectrum in the TV white spaces band.
Provisional awardees have been asked to submit a range of information to the FCC by Friday, December 19 and after a review of those filings, the commission will confirm the final list of awardees.
FCC Rural Broadband Experiment Winners
Funding for rural broadband experiments was awarded in three categories, including:
19 entities targeted to share $75 million toward the cost of bringing broadband at speeds of at least 100 Mbps downstream and 25 Mbps upstream
12 entities that will share $15 million toward the cost of bringing service at speeds of at least 10 Mbps downstream and 1 Mbps upstream
9 entities that will share $9.5 million toward the cost of bringing service at speeds of at least 10 Mbps downstream and 1 Mbps upstream to areas that are extremely costly to serve
Projects were funded in a total of 25 states and Puerto Rico.
One type of technology that apparently won't be used in the rural broadband experiments is satellite. In the public order about the funding decisions, the FCC noted that ViaSat applied for the program but asked for a waiver of the commission's 100-millisecond latency standard for the first two of the three funding categories—and the FCC opted not to comply with the waiver request.
The wording of the public notice suggests that 100-millisecond latency might be acceptable for projects targeting extremely high-cost areas. But it is not clear from the list of awardees in that category whether any of them are planning satellite options. (ViaSat is not among the awardees in that category.)
Familiar Names
Local carriers provisionally awarded funding won it for areas outside their traditional serving areas. The seven local carriers include:
Halstad Telephone Company in North Dakota
New Lisbon Telephone Company in Indiana
Southwest Arkansas Telephone Cooperative in Arkansas
Giant Communications in Kansas
Consolidated Communications Networks in North Dakota
Lennon Telephone Company in Michigan
Big Bend Telecom in Texas
Despite the similarity in names and serving areas, awardee Consolidated Communications Networks is not connected with the publicly held carrier known simply as Consolidated Communications.
Other entities winning funding include several that Telecompetitor has previously covered:
A complete list of provisional winners including the amount of funding tentatively allotted to them can be found in the FCC public notice.
Funding for the rural broadband experiments and for the broader Connect America Fund rural broadband program will come from money freed up through reforms to and policing of today's voice-focused Universal Service program.