The FCC today released state-by-state data about areas that could be eligible for the proposed $9 billion Rural 5G Fund auction. As much as 67% of the U.S. landmass in 49 states and three U.S. territories could be eligible, depending on which of two options for determining eligible areas the FCC chooses.
The commission initially proposed the Rural 5G Fund in December. The initial proposal called for eligible areas to be determined after information about mobile service availability was collected from mobile operators. According to a recent estimate, the first phase of a proposed two-phase auction would not be able to occur until 2023 because of the need to gather the information from the providers.
Earlier this month, a notice of proposed rulemaking (NPRM) began circulating within the commission that would seek comment on an alternative method for determining eligibility that would use current data sources to identify areas that are mostly rural and therefore most likely to need federal support. That option also calls for prioritizing areas that have historically lacked LTE or even 3G service. Using this approach, the Phase 1 auction could begin in 2021, the FCC said.
Rural 5G Fund Eligible Areas
Data released today is meant to illustrate areas that might be eligible for the Rural 5G Fund Phase 1 auction if the FCC opts not to wait to collect data from service providers. In determining rural areas, the FCC used rural-urban commuting area (RUCA) codes from the Department of Agriculture.
Using census bureau and American Community Survey data, the RUCA codes categorize census tracts based on population density, urbanization and daily commuting patterns, the FCC explained. Areas eligible for support in the Phase 1 auction would include census tracts that are part of RUCA codes 5-10, excluding blocks categorized as urban or that are water-only.
A 57-page report offers details about eligible areas by state.
As a map of California excerpted from the report illustrates, the report details potentially eligible geographic areas within each state, along with the population associated with those areas. Although the areas potentially eligible in California represent 64% of the landmass, they comprise only about 2% of the state's population.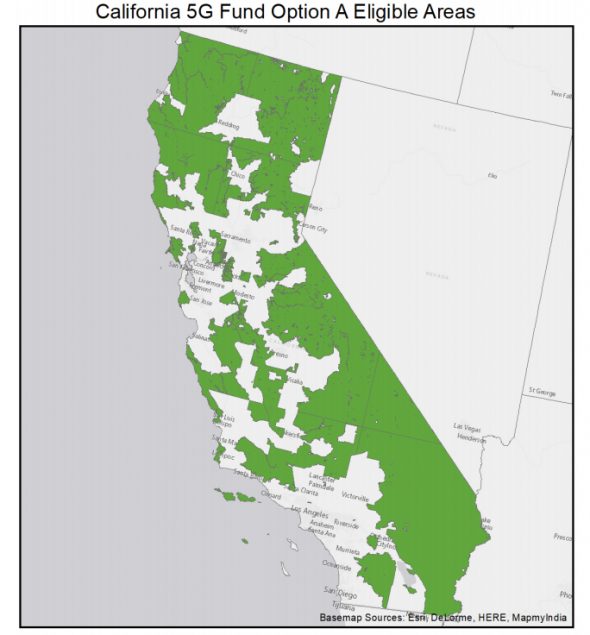 An FCC press release provides some additional flavor:
States that have a large portion of geographic areas potentially eligible include Nebraska (91%), North Dakota (90%), Montana (89%), Wyoming (86%), Vermont (85%), Kansas (85%), Maine (83%), Colorado (81%) and Idaho (81%).
States in which potentially eligible areas include a large percentage of the population include Vermont (47%), Maine (34%), Montana (33%), North Dakota (33%), South Dakota (33%), Mississippi (31%), Kentucky (27%) Wyoming (26%), New Hampshire (24%) and Iowa (23%).