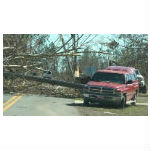 FCC Chairman Ajit Pai put wireless carriers on notice today, that while progress is being made on Hurricane Michael restoration, those areas near the historic hurricane's landfall are not being restored with wireless service quickly enough.
Pai joined Florida Governor Rick Scott in calling for wireless carriers to offer service credits for the month of October and to allow customers to switch providers without penalty.
"Even though efforts to restore communications services have been going well in most of the areas affected by Hurricane Michael, the slow progress in restoring wireless service in areas close to where the hurricane made landfall is completely unacceptable," said Pai in a prepared statement.  "While the FCC has been in regular contact with companies serving the affected areas, I'm concerned that their actions on the ground aren't matching the urgency that we have conveyed during those conversations."
Pai also called on carriers to immediately publicly disclose when service will be restored.
Shortly after Pai's statements Verizon responded, stating they intend to offer both residential and business wireless customers in the Bay and Gulf counties of Florida a three month service credit per line.
"Verizon is 100 percent focused on repairing our network in the Florida Panhandle," said Ronan Dunne, Executive Vice President and Group President of Verizon Wireless in a prepared statement. "We are making progress every hour, and we expect that trend to continue at a rapid pace."
Neither AT&T, T-Mobile, or Sprint had yet responded to Pai's call for service credits at the time of this post's publishing.
Hurricane Michael Damage
The coastal area of Florida's panhandle has been hit particularly hard. Florida's Bay County still had 61% of cell towers inoperable as of the FCC's Hurricane Michael Communications Status Report posted at 11:00am ET on October 16th.
All of the affected area of Florida had 322 cell sites down, or 12.7% of the total, according to the latest FCC report. All of the affected area across Alabama, Florida, and Georgia had 4.4% of cell towers down. Over 185K still are without telephone, television, and/or Internet services.
Image courtesy of Verizon.