As a part of the national broadband plan process, the FCC recently launched some broadband test tools, including a broadband speed test. "The purpose of the Consumer Broadband Test (Beta) is to give consumers additional information about the quality of their broadband connections and to create awareness about the importance of broadband quality in accessing content and services over the internet," says the FCC.
The FCC broadband blog, Blogband, reveals some early results of the speed test tool. Over 300K broadband tests have been completed thus far, 87% of which have been home (as opposed to business) broadband connections. According to this data, the average download speed was 9.27 Mbps and the average upload speed was 2.83 Mbps. The FCC is quick to point out that this data is 'unscientific' and the program is still in beta phase. I've posted the 'official results' of our office location below, where we have a business DSL connection (not bad, I guess).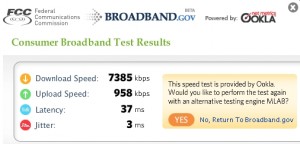 The FCC also has a 'Broadband Dead Zone' tool where citizens can report locations that lack broadband access — no update on these dead zones yet. The FCC intends to use these tools to help support one of the goals of the broadband plan – better accuracy for advertised broadband speeds. It's kind of a truth in advertising campaign, where the FCC wants broadband service providers to provide more accurate information about their true broadband speeds, not just the hypothetically fastest speed any given network might achieve under optimal conditions.
As an example, we're beginning to see claims of 100 Mbps broadband offers. We all know that while that network may be able to achieve 100 Mbps, the typical throughput for customers on any given day will actually be much lower than that.