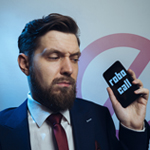 The FCC continues to get tougher in an attempt to stem the growing tide of robocalls. The most recent move against robocalls is the record $225 million fine against health insurance marketers in Texas. The company made about 1 billion illegally spoofed robocalls, according to a press release about the FCC robocall insurance fine.
Telecompetitor earlier reported about the 50% jump in robocalls in 2019 and about the regulator's mandate of STIR/SHAKEN ID technology to try to stem the tide.
According to the FCC, Rising Eagle made some 1 billion spoofed robocalls in the first 4.5 months of last year. Callers said they represented well-known health insurance companies, including Aetna, Blue Cross Blue Shield, Cigna and UnitedHealth Group. But any callers who opted to accept the calls and speak to an agent were transferred to a call center with no affiliation to the named companies, where call center representatives then would attempt to convince the consumer to purchase an insurance product sold by one of Rising Eagle's clients.
The FCC added that Rising Eagle's largest client, Health Advisors of America, was sued by the Missouri Attorney General for telemarketing violations in February 2019.
Beginning in 2018, there was an increase in consumer complaints and robocall traffic related to health insurance and other health care products. The Traceback Group determined that approximately 23.6 million health insurance robocalls were crossing the networks of the four largest wireless carriers each day. The FCC Enforcement Bureau's investigation found that a large portion of this unwelcome robocall traffic was driven by Rising Eagle.
According to a press release about the FCC robocall insurance fine, the Rising Eagle robocalls were spoofed in order to deceive consumers and targeted millions of Do Not Call list participants. The calls were received on many wireless phones without prior consumer consent. The scam also caused the companies whose caller IDs were spoofed to become overwhelmed with angry call-backs from consumers