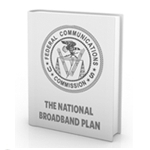 Yesterday the FCC released its 2010 'broadband action agenda' for carrying out key recommendations of the National Broadband Plan it submitted to Congress on March 16 related to rulemakings and other "notice-and-comment" proceedings.
With the intent of "accelerating deployment and adoption of robust, affordable broadband for all Americans," the "2010 Broadband Action Agenda "explains the purpose and timing of more than 60 rulemakings and other notice-and-comment proceedings the Plan recommends for FCC action," according to an agency news release.
An implementation schedule has also been posted. The FCC produced the Agenda with four key goals in mind:
Promoting world-leading mobile broadband infrastructure and innovation

Seek to make an additional 500 megahertz (MHz) of spectrum available for mobile broadband within the next ten years.
Increase opportunities for unlicensed devices and innovative spectrum access models.
Expand incentives and mechanisms to reallocate or repurpose spectrum to higher-valued uses.
Improve the transparency of spectrum allocation and utilization.
Accelerating universal broadband access and adoption, and advancing national purposes such as education and health care

Carry out a once-in-a-generation transformation of the Universal Service Fund over the next ten years to support broadband service. This will be achieved by converting existing subsidy mechanisms over time from "POTS" (plain old telephone service) to broadband, without increasing the size of the fund over the current baseline projection.
Upgrade the E-rate program, which has successfully connected public libraries and K-12 classrooms, to benefit students and others across the country by making broadband more accessible.
Reform and upgrade the Rural Health Care Program to connect more public health facilities to high-speed Internet facilities and to foster telemedicine applications and services. Create a Health Care Infrastructure Fund to support deployment of dedicated health care networks to underserved areas.
Create a Connect America Fund to extend broadband service to unserved areas of the nation and to ensure affordable broadband service in high-cost areas where support is necessary.
Create a Mobility Fund to bring all states to a baseline level of "3G" (or better) wireless coverage.
Fostering competition and maximizing consumer benefits across the broadband ecosystem

Enhance broadband and marketplace choices for small businesses and mobile providers by establishing consistent policy frameworks for special access and wholesale wireline competition.
Improve consumer disclosures and FCC data collection to better monitor and promote broadband competition.
Fulfill mandate from Congress to ensure that video navigation devices, such as smart video devices, are available to consumers in the marketplace, spurring innovation in home video devices and driving increased broadband adoption and utilization.
Advancing robust and secure public safety communications networks

Facilitate the creation of a nationwide interoperable public safety wireless broadband network.
Promote cybersecurity and protect critical communications infrastructure.
Aid the transition to next-generation 911 and alerting systems.
"We are putting the National Broadband Plan into action," FCC Chairman Julius Genachowski said. "The Commission's Bureaus and Offices have already begun executing on the strategy the National Broadband Plan lays out to connect all Americans to broadband, unleash innovation and investment, enable job creation, and ensure a bright future of economic opportunity and prosperity."
This week's court decision in favor of Comcast versus the FCC does not alter the agency's broadband goals, or its authority, Genachowski added. "The court decision earlier this week does not change our broadband policy goals, or the ultimate authority of the FCC to act to achieve those goals. The court did not question the FCC's goals; it merely invalidated one technical, legal mechanism for broadband policy chosen by prior Commissions.
"Our implementation plan lays out a roadmap for reforming universal service to connect all Americans to broadband, including in rural areas; unleashing spectrum, promoting competition and supporting small businesses; protecting and empowering consumers; safeguarding on-line privacy; increasing adoption in all communities and ensuring fair access for people with disabilities; protecting broadband networks against cyber attack and other disasters; and ensuring that all users can reach 911 in an emergency."