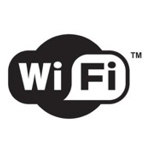 At the International CES tradeshow yesterday, FCC Chairman Genachowski announced a new FCC initiative to free up additional unlicensed spectrum in the 5 Ghz band for Wi-Fi. Genachowski said the FCC will move next month to make up to 195 megahertz of spectrum available for Wi-Fi, unleashing what he called Gigabit Wi-Fi capabilities.
"We all know the frustration of Wi-Fi congestion at conferences and airports. Today, the FCC is moving to bring increased speed and capacity to Wi-Fi networks by increasing the amount of unlicensed spectrum for Wi-Fi. As this spectrum comes on line, we expect it to relieve congested Wi-Fi networks at major hubs like convention centers and airports. It will also help in homes as tablets and smartphones proliferate and video use rises," says Genachowski in a FCC press release. The FCC will have to collaborate with a number of other federal agencies with this proceeding, since the 5 Ghz band is widely used by them already.
This is a welcome move, especially with next generation Wi-FI, or 802.11ac beginning to enter the market. This next generation Wi-Fi operates in the 5 Ghz band and is being touted as Gigabit Wi-Fi, with the capability of wireless HD video as one of its main attributes. New chipsets in the 802.11ac family are just beginning to ship.  As more devices ship with 802.11ac capability, their use should free up more bandwidth in older 2.4 Ghz Wi-Fi networks. LG just recently announced they will ship Gigabit Wi-Fi enabled TVs that will allow consumers to stream HD video from mobile and portable devices to their TV.