The U.S. median broadband speed was 39 Mbps downstream as of September 2015, according to FCC data released yesterday – up 22% from the previous year. The results were published in the FCC's latest "Measuring Broadband America" report. Issued since 2011, that report initially focused on actual vs. advertised broadband speeds but has expanded over time to include other data.
All major nationwide cable, telco and satellite broadband providers participate in the FCC's study, which is based on results measured on services used by volunteer participants. For most of the broadband providers, actual vs. advertised broadband speeds for this year's report period were 100% or better. The exceptions were satellite services from ViaSat and DSL services from AT&T, CenturyLink, Frontier and Windstream.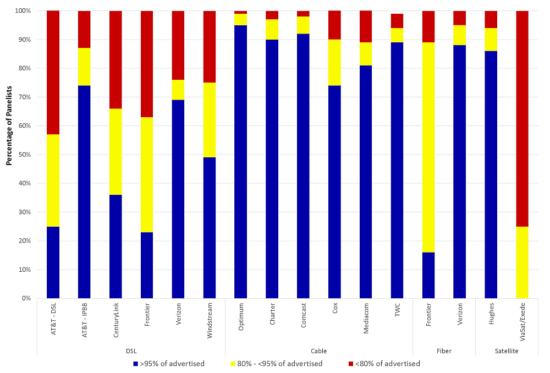 The "overwhelming majority" of broadband providers, with the exception of satellite providers, performed within 10% of last year's results, the FCC noted. Hughes' actual vs. advertised speeds ratio dropped from 203% to 152% while ViaSat's decreased from 107% to 71%.
"This is likely the result of increased subscribership and consumer usage of these services," the FCC commented. "Future proposed launches of more advanced satellites would likely reverse this trend."
U.S. Median Broadband Speed
The U.S. median  broadband speed increased almost fourfold between March 2011 and September 2015, due in large part to consumers upgrading the speed of their connections, the new FCC report observes.
Speed increases varied substantially by technology, however, with cable providers seeing the biggest jumps. The median broadband speed for cable increased 47% from when the FCC first started to publish the "Measuring Broadband" report in 2011. Since then, the maximum advertised download speed among the most popular cable service tiers increased from 20-30 Mbps to 100-300 Mbps.
In contrast, the median download speed for services delivered over fiber increased just 14% and DSL speeds remained about the same over that time period, according to a press release about the new FCC report.
It's a bit surprising that fiber services didn't see bigger speed increases over the study period. But that's likely to change over the next few years as carriers look to upgrade existing PON systems to support higher speeds and as carriers extend fiber deeper into the network.
It's not surprising that median DSL speeds didn't change much between 2011 and 2015, as the FCC apparently defines DSL only to include services that rely totally on copper between the central office and the customer. When a carrier extends fiber to the neighborhood to boost the speeds that can be delivered over shorter copper loops to the home, (as AT&T did with U-verse for example), the FCC apparently considers that service to belong in the "fiber" category.