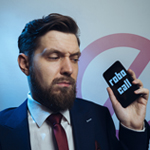 The FCC is taking another step in the ongoing battle against robocalls. The commission proposed new rules requiring the implementation of caller ID authentication using so-called "STIR/SHAKEN" technological standards, which are designed to enable phone companies to verify the accuracy of caller ID information that is transmitted with a call.
The FCC first announced the STIR/SHAKEN effort last year.
According to the FCC, industry-wide implementation would reduce the effectiveness of illegal spoofing, allow law enforcement to identify bad actors more easily, and help phone companies identify calls with illegally spoofed caller ID information before those calls reach their subscribers.
The FCC will vote on these new rules during its March monthly open meeting on March 31.
FCC STIR/SHAKEN
"All of us are fed up with robocalls—including me," said Chairman Ajit Pai, in a prepared statement. "We've taken many steps to stem the tide of spoofed robocalls. I'm excited about the proposal I'm advancing today: requiring phone companies to adopt a caller ID authentication framework called STIR/SHAKEN. Widespread implementation will give American consumers a lot more peace of mind when they pick up the phone."
Pai continued: "Last year, I demanded that major phone companies voluntarily deploy STIR/SHAKEN, and a number of them did. But it's clear that FCC action is needed to spur across-the-board deployment of this important technology. There is no silver bullet when it comes to eradicating robocalls, but this is a critical shot at the target."
The FCC estimates that the benefits of eliminating the wasted time and nuisance caused by illegal scam robocalls will exceed $3 billion annually, and STIR/SHAKEN is an important part of realizing those cost savings. Additionally, when paired with call analytics, STIR/SHAKEN could help protect American consumers from fraudulent robocall schemes that cost Americans approximately $10 billion annually.
Telecompetitor reported last month that the volume of unwanted robocalls soared again in 2019, as Americans received 106.8 billion of them — a 49% increase from the previous year, according to a new report from Transaction Network Services, Inc. (TNS). Unwanted robocalls include nuisance, scam or fraudulent robocalls.