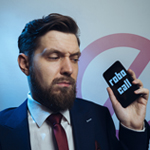 The Federal Communications Commission today took another step to try to help against the growing problem of robocalls. The FCC adopted new rules requiring the implementation of caller ID authentication using technical standards known as "STIR/SHAKEN," which are designed to further the FCC's efforts to protect consumers against malicious caller ID "spoofing," often used during robocall scam campaigns to trick consumers into answering their phones.
The STIR/SHAKEN rules enable carriers to verify that the caller ID information transmitted with a call matches the caller's phone number. The FCC expects that widespread deployment of STIR/SHAKEN will slash the effectiveness of illegal spoofing and enable law enforcement to identify violators more easily, as well as help carriers identify calls with illegally spoofed caller ID information before those calls reach their subscribers.
However, it will be some time before the new rules will have any effect because they don't require that carriers implement STIR/SHAKEN in the Internet Protocol (IP) portions of their networks until June 30, 2021. It should be noted that several carriers have already announced plans to implement the STIR/SHAKEN on their own before the FCC announced the implementation deadline.
In a press release, the FCC said it estimated that the wasted time and nuisance caused by illegal scam robocalls will exceed $3 billion annually, and STIR/SHAKEN is an important part of preventing that wasted cost. Additionally, when paired with call analytics, STIR/SHAKEN will help protect American consumers from fraudulent robocall schemes that cost Americans approximately $10 billion annually. Improved caller ID authentication should benefit public safety by reducing spoofed robocalls that disrupt healthcare and emergency communications systems.
As Telecompetitor reported recently, the volume of unwanted robocalls soared again in 2019, as Americans received 106.8 billion of them — a 49% increase from the previous year.