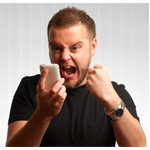 The FCC today took an action designed to protect consumers against one-ring phone scams, which can be very expensive for people who fall for the trick. The action comes in the form of a notice of proposed rulemaking (NPRM).
The FCC's proposal follows a consumer alert the agency issued in May 2019, implementing a section of the recently passed Pallone-Thune Telephone Robocall Abuse Criminal Enforcement and Deterrence Act (TRACED Act).
The TRACED ACT was introduced a little over a year ago, as reported by Telecompetitor.
One-ring scams involve calls to a consumer's phone that ring a single time. If the customer returns the call, it goes to an international toll-generating number that charges large per-minute fees.
Scammers may also leave consumers a voice mail message with a false pretext for the consumer to call them back. Either way, U.S. consumers incur significant phone charges (of which the scammer gets a share) when they return the international call. Scammers often call in the middle of the night and may call multiple times in a row in order to create an appearance of urgency while trying to ensure the call is not answered.
In 2019, the FCC issued an alert advising consumers on how to protect themselves from such scams. The FCC additionally advises consumers to avoid answering or returning any calls from numbers they do not recognize, to check whether an unfamiliar number has an international area code before returning the call, and to ask their phone company to block outgoing international calls if they do not make such calls.
"One-ring scams are annoying and pernicious, waking up many Americans with confusing calls in the middle of the night and tricking them out of their money if they call back," said FCC Chairman Ajit Pai, in a prepared statement. "With this effort, this agency shows it's serious about aggressively combating this scam. I look forward to hearing from the public about their ideas for putting an end to this. And in the meantime, I urge them not to call back if they get calls like this."
In the NPRM, the FCC seeks comment on proposals for implementing TRACED Act provisions about one-ring scammers such as allowing voice providers to block calls highly likely to be associated with a one-ring scam and seeking consensus on what obligations international gateway providers should have in stopping one-ring scam calls.