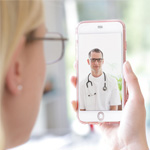 The Federal Communications Commission today released a Public Notice with information and guidance for potential applications to the FCC Connected Care Pilot Program. The program will provide as much as $100 million from the Universal Service Fund over three years to support connected care. Emphasis will be given to low-income Americans and veterans, the FCC said in a press release.
The FCC says that applicants must be nonprofit and public eligible health care providers that fit into the categories deemed "health care provider" in section 254(h)(7)(B) of the Telecommunications Act of 1996, whether rural or non-rural. Organizations can file FCC Form 460 with the Universal Service Administrative Company (USAC) to determine eligibility and obtain a Health Care Provider number, both of which are required for each site's application. Health care provider sites that have been determined by USAC to be eligible for the FCC's Rural Health Care Program or COVID-19 Telehealth Program may use that determination to participate in the Pilot Program.
Final rules for the Pilot Program were adopted on April 2. They say that the program will use USF funding to help defray 85% of costs to eligible health care providers. Equipment and network services eligible for this support include patient broadband Internet access services, health care provider broadband data connections, other connected care information services and "certain network equipment." The Pilot Program will not fund devices.
"This year, our country has pivoted to a newer model of delivering health care, one that finds connectivity at its core, and the FCC has risen to the challenge in supporting connected care services throughout the United States," FCC Chairman Ajit Pai said in the release about the FCC Connected Care Pilot Program. "Our Connected Care Pilot Program will help us to look to the future and determine how universal service support can shepherd telehealth services into a new era of healthcare delivery."
Information for the Public Notice was sought in a Notice of Proposed Rulemaking that was adopted in July 2019. The NPRM sought information on budget, duration, structure, protection of other USF program funding, eligibility and various questions related to the limits and targets of the program.