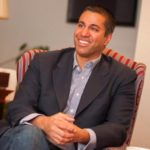 A proposal from FCC Commissioner Ajit Pai aims to encourage gigabit deployments in rural America by giving tax breaks to network operators deploying the high-speed broadband service. The Pai Gigabit Opportunity Zones proposal also would set aside 10% of the money raised from spectrum auctions for the deployment of mobile broadband in rural America, according to a fact sheet.
Pai revealed his proposal in a speech today at The Brandery, a startup accelerator in Cincinnati.
"High-speed Internet access, or broadband, has enabled what I've called the democratization of entrepreneurship," said Pai in remarks prepared for delivery today at The Brandery. Today, he said "with a powerful plan and a digital connection, you can raise capital, start a business, immediately reach a worldwide customer base, and disrupt an entire industry."
Referencing a growing digital divide in the U.S., however, he added that "there's virtually no limit to what Americans who are disconnected today could achieve tomorrow if they were participants in, rather than spectators of, the digital economy."
Pai Gigabit Opportunity Zones
Pai's plan calls for the creation of Gigabit Opportunity Zones, which could be as small as a neighborhood block or as large as a county. To qualify, average household income in the zone would have to be below 75% of the national median. Also, state and local lawmakers would have to adopt broadband deployment- friendly policies.
In addition to providing tax incentives to companies deploying broadband networks, Pai's proposal calls for further tax incentives for entrepreneurs to create jobs in the Gigabit Opportunity Zones. Those incentives would offset the employer's share of payroll taxes.
Pai's proposal also has some recommendations specific to mobile broadband. It calls for increasing the build-out obligations of wireless carriers and would incentivize rural broadband investment by increasing license terms to 15 years.
The Pai Gigabit Opportunity Zones proposal also calls for the creation of a Mobility Fund Phase II as part of Universal Service reforms. The program would cover some of the costs of deploying mobile broadband in high-cost rural areas and would be funded – at least in part – through spectrum auctions. Pai's speech notes that the proposed program would have raised $700 million annually if it had been in place over the last 10 years
The idea of dedicating 10% of spectrum auction proceeds to mobile broadband deployment could be a compelling one at a time when some people have questioned whether the current Universal Service budget is sufficient to support the cost of nationwide wired and wireless broadband deployments. Currently the Universal Service program is funded through the telecom industry as a percentage of voice revenues. But proposals to expand the contribution base to include broadband services have met with strong resistance, even as the program has been expanded to fund broadband deployments.
It will be interesting to see the reaction to the idea of a mobile broadband fund sharing in spectrum auction proceeds – a plan that likely would require legislation. Getting legislators to agree on anything is difficult in today's environment, but there have been some exceptions when it comes to telecom, such as the legislation that made the upcoming broadcast spectrum auction possible.