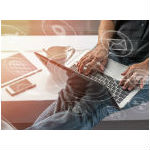 The FCC released data today that claims the agency's policies are closing the digital divide and increasing broadband competition. The updated data is being added to the congressionally mandated Communications Marketplace Report (2018), covering industry data from 2016 to 2018.
The updated data claims broadband availability has expanded dramatically during this time period. Specifically, the FCC reports that the number of Americans who couldn't access 250/25 Mbps broadband service dropped by 74% from 181.7 million to only 47 million.
For Americans who couldn't access the current FCC definition of broadband, or 25/3 Mbps service, the numbers were reduced by 30%, from 26.1 million to 18.3 million. Put another way, the FCC reports that as of December 2018, over 18 million Americans don't have access to 25/3 Mbps broadband service. Nearly 100% of Americans had access to 10/1 Mbps broadband service from at least one provider, the report states.
This data is courtesy of FCC Form 477 data, which should bring some scrutiny to these reports. Form 477 data has generated much controversy, considering it counts a whole census block as being covered with broadband if a service provider can deliver broadband service to only one household within that census block. That method for counting broadband availability and the digital divide leads to over stating the actual reality on the ground, many have argued.
Closing the Digital Divide
"My top priority at the FCC is to expand broadband deployment and provide all Americans with digital opportunity, and the figures we are releasing today show once again that we are on the right track," said FCC Chairman Ajit Pai in a prepared statement. "At that same time, however, our work is not done. That's why we'll continue our focus on eliminating regulatory barriers to broadband deployment and reforming our universal service funding programs, such as through the implementation of the Rural Digital Opportunity Fund."
The report also examines the competitive environment for broadband, which the FCC says is on the rise. The number of Americans who have at least two options for 25/3 Mbps service increased by 52% from 45.9 million to 69.8 million, according to the report. In rural areas, that number increased by 52% from 14.4 million to 22 million.