The FCC has certified a system from Tecore Networks aimed at preventing contraband cell phones from accessing voice, data and messaging services in prisons.
In July 2021, the FCC launched an initiative to spur the development of such systems, according to a Tecore press release. The FCC, in Docket No. 13-111, set equipment standards, analyzed detection and testing methodology and established compliance criteria for critical public safety standards in contraband interdiction systems (CISs).
The certification process for these systems opened for applications in May 2022. Late last month, the Tecore iNAC-E system – which also is known as Managed Access System Evolved – was among what Tecore characterized as a small group of systems to receive conceptual system certification. The company said that its system is the first to reach full certification via a deployment at an unnamed correctional facility.
"Tecore has led the initiative to minimize and eliminate the danger of contraband cellular phone usage in correctional facilities. This certification by the FCC showcases the effectiveness and reliability of our managed access solution while ushering in powerful new resources for our government partners," said Tecore Networks' Founder and CEO Jay Salkini in a press release.
The iNAC-E prevents contraband cell phones from accessing the voice, data and messaging services within correctional facilities and other highly secure environments and reports contraband devices and subscribers' data to officials.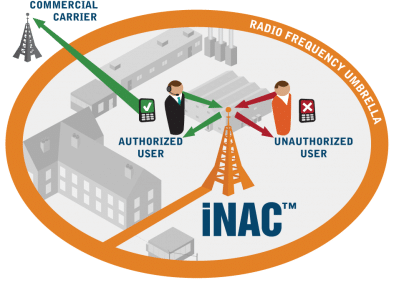 In parallel the system maintains carrier-grade performance for users and devices that are authorized, Tecore said. It works with the Tecore Government Services' interconnect roaming hub, which interconnects to commercial carrier networks. The system works with 2G, 3G, 4G and 5G networks.
Prisoners typically are required to make any phone calls using phones installed in prisons that have high per-minute charges. Several years ago, then-FCC Commissioner Mignon Clyburn attempted to take action to lower those rates, arguing that they put a tremendous burden on inmates' families.