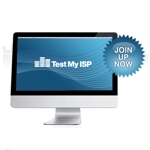 As we've noted in previous posts, the FCC is intent on measuring the actual vs. advertised consumer broadband speeds across the nation, this as part of its broadband speed initiative, which is being coordinated by the Commission's Consumer Task Force.
Based on the results of a recent survey conducted for the FCC by Abt/SRBI and Princeton Survey Research Associates, there's good reason for, and value in, doing so. The survey found that 80% of broadband users in the US do not know their broadband connection speed. Despite this, most survey respondents–91%–said they were "very" or "somewhat" satisfied with the speed of their connections.
"Better information can help all consumers choose the broadband services that best meet their needs," said Joel Gurin, Chief of the Consumer and Governmental Affairs Bureau of the FCC. "Today, most people just know that their home broadband speed is supposed to be 'blazing fast.'
Moving this effort forward, the Consumer Task Force also announced two supporting initiatives: One asking for 10,000 volunteers to participate in a scientific study to measure home broadband speed and a second, detailed in a Public Notice, soliciting input on ways to measure mobile broadband speed.
As part of this process, conducted in partnership with UK-based SamKnows, which conducted a similar survey for the UK telecoms regulator, specialized hardware will be installed in volunteers' homes to measure the performance of all the major Internet Service Providers in the US across geographic regions and service tiers.
Those willing to volunteer can register at www.TestMyISP.com. A Public Notice seeking comment on the test plan was released in April.
When it came to satisfaction with their mobile broadband speeds, 71% of customers said they were satisfied as compared to 92% who said they were satisfied with their cell phone service.  The FCC is also accepting suggestions on the best way to measure actual mobile broadband speeds.