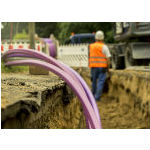 The FCC has authorized CAF II funding for six more network operators. The six operators will share $7.5 million, which will go toward the cost of making broadband available to 3,100 unserved locations in seven states.
Recipients won the funding in the 2018 CAF II (Connect America Fund) auction, which awarded funding to entities that committed to deploying broadband for the lowest level of federal support.
FCC Authorizes CAF II Funding
The recipient in today's announcement that will receive the largest amount of funding is NE Colorado Cellular, which will get more than $3 million to make service available to 731 locations in Colorado and 56 in Nebraska. The company that will receive the smallest amount of funding is Gila Local Exchange Carrier, which will receive $104,500 targeting 29 locations in Arizona.
The other authorized companies are:
Aristotle Unified Communications for 72 locations in Illinois
Mark Twain Communications for 676 locations in Missouri
Mid-Hudson Data Corp. for 459 locations in New York
Cherokee Telephone Company for 1,166 locations in Oklahoma
The majority of the target locations in today's announcement will receive service at speeds of 25 Mbps downstream and 3 Mbps upstream. The exceptions: Gila Local Exchange Carrier will deploy 1 Gbps/500 Mbps service to some locations and 100/20 Mbps service to others. Mid-Hudson Data Corp. also will deploy 100/20 Mbps service.
In a press release announcing today's authorizations, the FCC noted that the award to Mid-Hudson Data Corp. were provided through the commission's partnership with the state's New NY Broadband Program.
New York was the only state where funding decisions were made by the state rather than the FCC. The state contributed funding of its own to the deployments through the New NY Broadband program, and the FCC allowed the state to make the decisions as a means of getting service deployed more quickly in the state.
As the FCC authorizes CAF II funding for the six companies, the commission is currently planning a new Rural Digital Opportunity Fund (RDOF), which will essentially replace the CAF program. RDOF funding also will be awarded through a reverse auction.
Today's announcement was the 12th authorization announcement that the FCC has made in the CAF II funding program. As of now, almost all the $1.488 billion won in the CAF II auction has been authorized.