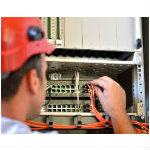 The FCC today authorized approximately $112 million in rural broadband funding over 10 years to entities that won funding in the Connect America Fund CAF II auction. The auction awarded a total of $1.488 billion to help cover the cost of bringing broadband to high-cost rural areas where service is not available today.
Today's announcement is the fifth CAF II funding authorization announcement that the FCC has released, bring total authorized funding to over $1 billion.
Rural Broadband Funding
The vast majority of funding released today will go to two entities that will deploy fixed wireless technology:
Cal.net Inc. will receive over $50.5 million to deploy service to 20,859 homes and businesses in California, most of which will receive service at speeds of at least 100 Mbps downstream and 20 Mbps upstream.
W.A.T.C.H. TV will receive nearly $53.4 million to bring service to 23,957 rural homes and businesses in Illinois, Indiana and Ohio, most of which will be able to get speeds of at least 100/20 Mbps.
Seven other entities are on the authorized list released today, including:
Illinois Fiber Connect (Illinois)
ShawneeLEC (Illinois)
Casey Mutual Telephone (Iowa)
Consolidated Telephone (Minnesota)
Wikstrom Telephone (Minnesota)
Echo Wireless Broadband (New Mexico)
Wood County Telephone (Wisconsin)
Five of the seven – everyone other than Echo Wireless Broadband and ShawneeLEC – will provide service supporting speeds of at least 1 Gbps/ 500 Mbps. The CAF II auction awarded funding to bring broadband to unserved areas within price cap carrier territories where the incumbent carrier declined funding offered to it based on a cost model. Funding awarded through the auction went to the entity offering to provide service at the lowest level of support, with a weighting system designed to encourage bids to provide higher-speed and lower-latency service.
To obtain authorization, auction winners were required to submit a long form application, which the FCC must approve, at which point the winning entity is put onto a "ready to authorize" list. After an entity is deemed ready to authorize, it must then get a letter of credit from an authorized lender, at which point the company goes onto the "authorized" list.
Details about the companies authorized today can be found in this FCC press release.