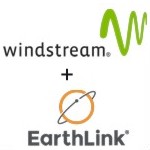 FCC approves Windstream-EarthLink merger, paving the way for EarthLink to become a wholly owned, indirect Windstream subsidiary.
Windstream management made a public case for the acquisition back in November 2016. "The combination will result in an extensive national footprint spanning approximately 145,000 fiber route miles and provide advanced network connectivity, managed services, voice, Internet and other value-added services," management elaborated.
"Customers will also benefit from combining Windstream's scale in the Enterprise segment and EarthLink's successful launch of SD-WAN."
The FCC didn't receive any comments opposing the deal during the public comment period required by law. That said, the public will have 30 days to petition the FCC to reconsider its approval.
FCC Approves Windstream-Earthlink Merger
Both Windstream and EarthLink are publicly held corporations registered in Delaware whose shares trade on U.S. stock markets. Both also are FCC registered telecommunications providers and provide broadband Internet service.
EarthLink is a nationwide Internet and telecom provider that was founded in 1994 as Internet use began moving into the mainstream. A "dot-com" era success story, the company started out by building an extensive network that offered dial-up Internet connectivity. The company has continued to sustain itself by keeping abreast of technological change and broader market trends while focusing on providing Internet and telecom services to SMB and enterprise-scale businesses and other types of organizations.
Windstream, in contrast, is classified as an ILEC (incumbent local exchange carrier) with roots that stretch back to 1943 and the founding of rural telecom carrier Allied Telephone Co. in Little Rock Arkansas.
Recently, Windstream management has contributed to the rising tide of telecom industry mergers and acquisitions in a bid to expand and diversify. Rolling out new fiber networking and connections to SMBs and enterprise-scale organizations has been a focal point.
Management divested Windstream's physical network into a tax-advantaged REIT-like investment trust and sold off the company's data center assets in their bid to raise capital and concentrate corporate resources on broadband expansion.
As reported to the FCC for the acquisition review, Windstream provides Internet, broadband and telecom services to approximately 1.4 million residential customers located primarily in rural areas of Alabama, Arkansas, Florida, Georgia, Iowa, Kentucky, Minnesota, Mississippi, Missouri, Nebraska, New Mexico, New York, North Carolina, Ohio, Oklahoma, Pennsylvania, South Carolina, and Texas.
Its competitive LEC subsidiaries offer services in portions of all states except Alaska.
Combined, Windstream and EarthLink management believe they'll be better able to compete in the mid-tier section of the broadband and telecom services markets.
Cable MSOs are also looking to expand their shares of the mid-tier business market segment, while telcos want to maintain a strong market presence. From this perspective, Windstream's acquisition of EarthLink appears to be similar to, though much smaller than, CenturyLink's $34 billion acquisition of Level 3.
"Both EarthLink and Windstream are used to competing against the cable MSOs, as well as the LECs," commented Windstream CEO Tony Thomas during a conference call detailing the transaction. "Frankly this transaction better positions both of our companies, we're a stronger, more scaled competitor, bringing the best of both of our product sets, a larger network."