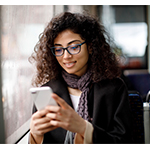 The FCC has released an order adopted in late October that strengthens rules for the Lifeline telecom program that pays some of a low-income user's phone or broadband costs. The goal is to strengthen the program's enrollment, recertification and reimbursement processes with the aim of reducing or eliminating improper payments, which have been an ongoing concern for the program.
FCC Lifeline Program Rules
As the FCC explains, reforms include:
Prohibiting participating carriers from paying commissions to employees or sales agents based on the number of consumers who apply for or are enrolled in the Lifeline program
Requiring participating carriers' employees or sales agents involved in enrollment to register with the program administrator, the Universal Service Administrative Co. (USAC)
Strengthening prohibitions barring Lifeline providers from claiming "subscribers" that are deceased
Taking additional steps to better identify duplicate subscribers, prevent reimbursement for fictitious subscribers, and better target carrier audits to identify potential FCC rule violations
Increasing transparency by posting aggregate subscribership data, including data broken out at the county level, on USAC's website
Increasing transparency with states by directing USAC to share information regarding suspicious activity with state officials
Restoring the states' traditional role of designating carriers to participate in the Lifeline program.
The latter provision is likely to be unpopular with some service providers, as it requires them to gain approval to participate in the program on a state-by-state basis, complicating the approval process.
The order adopted today appears to be the one initially circulated within the FCC earlier this year.
Adopted with the order was a notice of proposed rulemaking (NPRM) that seeks comment on additional steps the commission could take to "combat waste, fraud and abuse," the commission explains in a press release.
Among other things, the NPRM seeks comment on whether some providers' practice of providing free cellphones during in-person Lifeline enrollment events encourages ineligible applicants to attempt to enroll in the program.
The latest FCC action on Lifeline comes several weeks after the commission alleged that Sprint had violated Lifeline guidelines that may have cost millions of dollars. According to the FCC, Sprint violated Lifeline guidelines by continuing to accept subsidies for Lifeline customers that were not using their service. Those customers got service for free because Sprint did not charge them anything more than the $9.25 a month that Sprint was collecting in subsidies from the FCC.
Two FCC commissioners – Jessica Rosenworcel and Geoffrey Starks – concurred in part and dissented in part with the Lifeline order and NPRM. Among other things, Starks said he was "troubled" by some of the ideas suggested in the NPRM, such as a suggestion to ask Lifeline recipients if they would be able to afford their Lifeline-supported service without the Lifeline discount.
"I don't believe we've ever probed elderly Medicare recipients on how much they actually value their medical services; nor should we probe vulnerable Lifeline recipients on how much they value their connectivity," said Starks.
Rosenworcel's critique included expressing concerns that collecting personally identifiable information from carrier employees represented an unnecessary risk for a data breach.