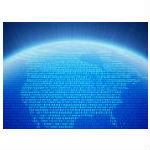 The FCC today adopted new procedures for collecting broadband availability information from network operators. The new FCC broadband data collection rules aim to address long-standing problems with the commission's current broadband data and inaccurate broadband maps. But according to FCC Chairman Ajit Pai, the commission won't be able to implement the new processes unless Congress provides funding to do so.
The FCC's action on broadband data collection came in the form of a report and order and notice of proposed rulemaking adopted at today's monthly commission meeting.
FCC Broadband Data Collection Rules
It is widely agreed that the FCC's current broadband data overstates availability because an entire census block is considered served even if only a single location in the block can get service or a network operator has said it could easily make service available in the block. 
The new rules call for fixed service providers to submit shapefile maps or lists of addresses showing where they provide service or can make service available within 10 days, commission officials explained today. Wireless providers will be required to submit coverage maps based on accepted propagation models.
The rules also call for the creation of a common data set of all locations in the U.S. where fixed broadband can be installed, to be known as the broadband serviceable location fabric. 
In addition, the new rules include processes for verifying the accuracy of provider data, including the collection of crowd-sourced data and the use of regular audits.
Broadband DATA Act
Congress directed the FCC to address broadband data collection problems in the Broadband DATA Act signed into law in March. At the time, Pai warned that the commission would not be able to implement the act unless Congress would quickly provide the commission with "the appropriations necessary" to do so. Since then, he has reiterated that need and he did so again today.
"Congress has yet to provide funding for implementing the necessary systems for processing provider coverage data, for developing the nationwide fabric of serviceable locations or for conducting the in-depth verification and challenge processes that will ensure the reliability of the maps," said Pai at today's meeting.
Commissioners Jessica Rosenworcel and Geoffrey Starks expressed a different concern about the new broadband data collection rules. Both commissioners' concerns related to the Rural Digital Opportunity Fund Phase 1 auction scheduled to begin in October. That auction is designed to award $16 billion in funding to network operators to help cover the cost of bringing broadband to areas where it isn't currently available based on the current data.
Commissioners who advocated for that plan argued that the concerns with existing data relate to census blocks that are considered served, rather than to those considered unserved, which are the target of the auction. 
Rosenworcel argued, however, that "we have it backwards." Starks agreed and also said he would oppose any efforts to use existing data to target funding in the planned 5G Fund.