The cable industry's broadband market share is not as large as many people believe, according to a new report prepared by research firm RVA for the Fiber Broadband Association.
The cable modem broadband market share is about 47% nationwide, according to the report.
A common question about this finding, the report notes, is: How can cable share be only 47% when some other sources show it close to 70%?
As the authors explain, "The high cable share number occurs when comparing the sum of the cable numbers of the top publicly traded cable companies (service delivered by either cable modem or FTTH technology) to a base of only all publicly traded wireline companies."
One example of a research firm that focuses only on publicly traded companies is Leichtman Research Group (LRG).
RVA said the 47% cable market share number includes all residential cable users as a percentage of all household internet users (all wireline users, fixed wireless users, and mobile-only home internet users). That estimate also accounts for the fact that some cable broadband customers are served over fiber broadband.
I might quibble with including mobile-only home internet users among all household internet users. If you omit those users, cable modem market share undoubtedly would be considerably higher than 47%. But it would still probably be considerably less than 70%.
In an email to Telecompetitor, S. Derek Turner, senior advisor for Economic and Public Policy Analysis for consumer group Free Press, cited some FCC data suggesting that the number is approximately 64% based on those parameters.
Cable Modem Market Share Decline
By separating cable fiber customers from cable modem customers, the FBA/RVA analysis shows that cable modem technology lost 1.4% in market share in the past year, while fiber broadband gained 1%.
This is another interesting finding that differs from those based only on publicly traded companies and that doesn't separate out cable fiber customers.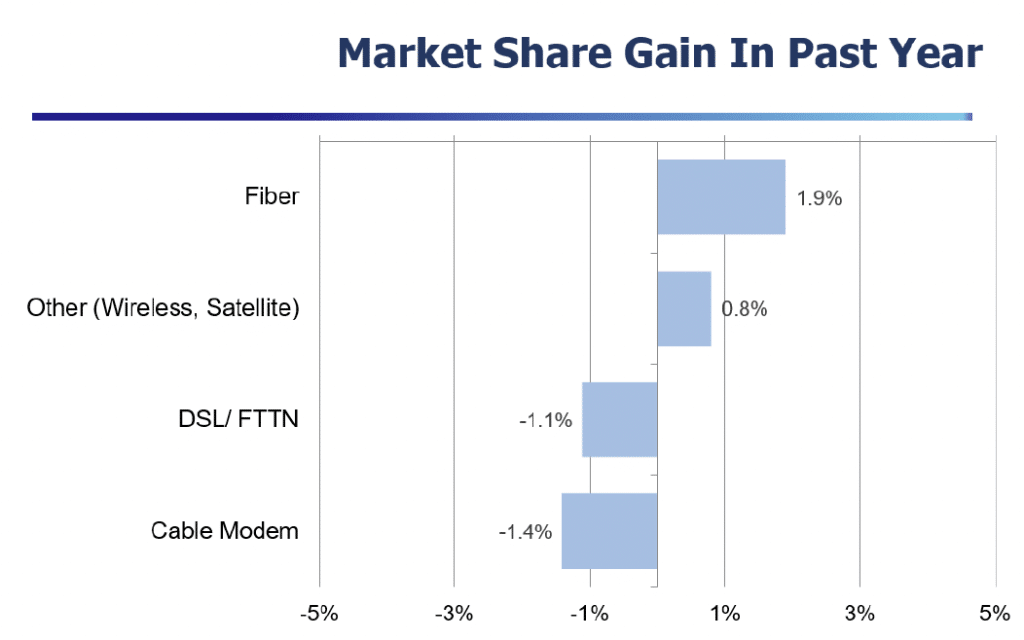 Other findings from the FBA report, which was completed in time to coincide with the FBA's Fiber Connect conference this week:
Consumers responding to an RVA survey said they would pay an average of 4.9% less for a single-family home without fiber broadband compared to one with fiber.
High-speed reliable broadband was the second most important amenity for home buyers, cited by 65% of respondents, behind a laundry room, which was cited by 69%.
Updated with information from Free Press