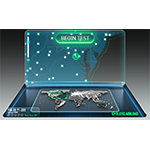 Stealth Communications, a competitive carrier providing service to businesses in New York City, offers the fastest average download speeds of the top 40 carriers in the U.S., according to new research from BroadbandNow, a company formed to fill in gaps left behind when the government cut back on funding for the interactive National Broadband Map. Stealth's average download speed was 145.9 Mbps.
BroadbandNow used broadband measurements from M-Labs in compiling the fastest average U.S. download speeds by carrier. M-Labs is a partnership between New America's Open Technology Institute, Google Open Source Research, Princeton University's PlanetLab and other organizations. It has conducted millions of speed tests on actual broadband connections nationwide.
"M-Labs is one of the more trusted speed test tools," said Jameson Zimmer, director of content for BroadbandNow, in an email to Telecompetitor.
BroadbandNow determined the top 40 carriers based on how much population they cover. "This isn't a measure of total customers, but rather a measure of total possible customers based on census blocks they register coverage in with the FCC," explained Zimmer.
Average U.S. Download Speeds By Carrier
Google Fiber, the Alphabet unit focused on providing gigabit service primarily using passive optical network (PON) technology, came in second in the BroadbandNow rankings, with an average download speed of 95 Mbps. Sonic.net, another upstart focused on gigabit PON, was third with a 74 Mbps average download speed, followed by Verizon Fios (64.5 Mbps).
The remaining 11 of the top 15 spots were all taken by cable companies, with the exception of the seventh spot, which went to Wave Broadband, another gigabit PON-focused provider, which had an average download speed of 53 Mbps. All providers in the top 15 had average download speeds of 38 Mbps or higher. It's worth noting that there has been considerable consolidation since the data was gathered. Charter, Time Warner Cable and Bright House, reported as separate companies, are now a single entity, for example.
BroadbandNow operates a website that enables consumers to enter their zip code and see which providers offer service there and at what speeds and price levels. The company's traffic "went crazy" after the U.S. government defunded the "public facing side" of the National Broadband Map, Zimmer said. The National Broadband Map was created to help in making policy decisions, but also was designed, initially at least, as a consumer tool.
The BroadbandNow results seemed to be influenced by the percentage of high-speed connections that a provider sells. Level 3 Communications and XO Communications – two companies focused on the business market that have been acquired by CenturyLink and Verizon, respectively — came in at number 20 and 22, respectively. Even though both Level 3 and XO offered high-speed connections, a substantial portion of their business customers apparently purchased service at slower speeds.
BroadbandNow's complete list of fastest average U.S. download speeds by carrier is as follows: