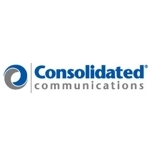 Another telecommunications brand will fade away, starting today, as Consolidated Communications will retire the FairPoint brand and begin operating as Consolidated Communications in former FairPoint territories. Consolidated acquired FairPoint for $1.3 billion (including debt) in July 2017.
The combined company now operates in 24 states with a fiber network that spans 36K route miles, making it a top 10 fiber broadband provider in the U.S., according to Consolidated. Key operational metrics as of 3Q17 include over 800K broadband and data customers, 8,700 on-net buildings, and over 2,600 fiber-connected wireless towers.
"Today, we launch the Consolidated Communications brand to reflect a new day and our commitment to deliver best-in-class services to our customers," said Bob Udell, president and chief executive officer of Consolidated Communications in a press release. "Since closing on the acquisition last July, we've made great progress on many initiatives to upgrade broadband platforms and make it easier for customers to do business with us by delivering new and enhanced products and self-service tools."
FairPoint operated along the East coast, with most of its operations in the Northeast, thanks to a Verizon assets acquisition back in 2007. That acquisition eventually crushed FairPoint, with the resulting debt load contributing significantly to FairPoint's bankruptcy back in 2009.
Consolidated is now focused on upgrading much of the broadband facilities in FairPoint territory. More than 500K locations are targeted for broadband upgrades by the end of 2018, the company reports. Additionally, Consolidated is upgrading its business products portfolio in FairPoint markets to include Unified Communications, advanced data networking and cybersecurity services, including both cloud and on premise solutions.
Consolidated has grown significantly in the past ten years, primarily from the acquisition. Beyond FairPoint, other key past acquisitions have included SureWest, which was based in California, and Enventis/Hickory Tech, which was based in Minnesota.