FairlawnGig — a municipal broadband network offering gigabit speeds in Fairlawn, Ohio – is expanding service to include communities within the greater Akron area.
It's an interesting development for the municipal broadband sector at a time when some municipal networks have struggled and when some states have made it difficult for municipal networks to offer or expand broadband service.
The name FairlawnGig first emerged in 2015 when the city of Fairlawn issued a request for proposal for a network operator to build and operate an open access broadband network in the city. Fairlawn's mayor hoped that a high-speed broadband network would help attract business to the community – a strategy more and more cities are pursuing after seeing the success of a pioneering gigabit network constructed by municipal utility company EPB in Chattanooga.
Network operators often are reluctant to build a network if they have to share it with other operators, however, and perhaps that was the case in Fairlawn, as news reports show that the city ultimately opted to borrow $10 million through a county development finance authority to build its own broadband network that carries the FairlawnGig name. The city of 7,400 enlisted Fujitsu to assist with network construction, which began in 2016.
Media outlet EfficientGov in April quoted Fairlawn Mayor Bill Roth saying that engineering, medical and accounting companies have moved to Fairlawn since network construction began. Roth also noted that home valued increased 8% in 2017, when every house had fiber broadband available to it, the report said. And Ernie Staten, deputy director of public service at the city of Fairlawn, told Telecompetitor that after less than one year, the FairlawnGig network already is earning sufficient revenues to cover operations and maintenance costs.
Buoyed by this success, FairlawnGig now is offering to bring ultra-fast broadband to surrounding communities "for a reasonable fee," according to a press release issued yesterday. Ernie Staten, deputy director of public service at the city of Fairlawn, told Telecompetitor that FairlawnGig will be expending into downtown Akron and Medina County, with those entities paying a build fee. FairlawnGig will operate the networks and revenues will go to FairlawnGig, but FairlawnGig will have a monthly fee for each user to the Medina network.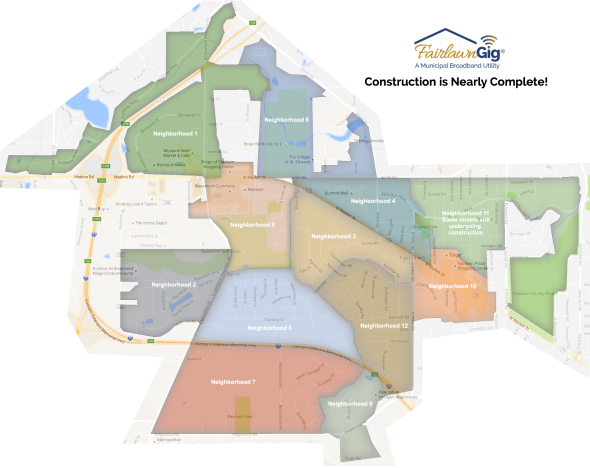 Some people argue that operating broadband networks is not a core competency for municipalities. These skeptics note that some publicly owned networks, including  Axcess Ontario  in New York and BVU Optinet in Virginia, have ultimately been sold to private operators.
Perhaps the jury is still out on FairlawnGig. But so far, at least, this appears to be one municipality that has seen adequate economic benefits and apparently feels confident enough not only to remain in the broadband business but to extend broadband outside its home turf.
Updated