Working with partners, Facebook has developed technology aimed at enabling fiber optic cables to be installed by a robot on existing electric power infrastructure. The goal is to reduce the cost of fiber deployment to bring affordable broadband to areas where it isn't available today. The company estimates that its solution could deliver a three- to five-fold decrease in aerial fiber construction costs. A blog post notes that Facebook expects to see trials of the technology next year.
"Since the cost of deploying fiber comes almost entirely from construction, this was the area we wanted to address," said a Facebook wireless engineer in a company blog post. "If successful, we believe this technology will allow fiber to effectively and sustainably be deployed within a few hundred meters of much of the world's population."
Facebook Fiber Robot
The Facebook fiber robot is designed to deploy a specialized fiber-optic cable on medium-voltage (MV) power lines using helical wrapping. 
MV power lines are linked to a power plant via high-voltage transmission lines. The MV lines deliver power to low-voltage distribution lines to individual homes and businesses.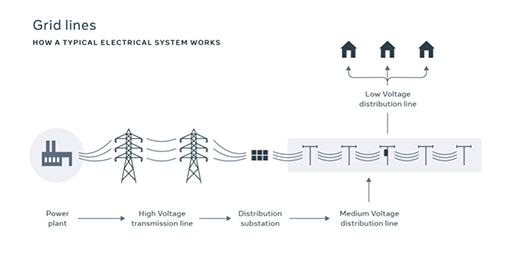 Helical wrapping involves winding fiber cable around a supporting conductor. Traditionally the technology has been used only on high-voltage lines, but the Facebook fiber robot is designed to wind cable around MV lines. 
Developers faced a range of challenges in developing the technology. According to the Facebook blog post, there are approximately 10 times more obstacles for a given distance of MV conductor in comparison with high-voltage lines. Clearances around MV conductors are an order of magnitude smaller and MV cables support less weight. In addition, installation must be performed while lines are energized, meaning human contact must be minimized. 
Part of the solution was to use 24-count fiber, rather than higher-count fiber, to minimize weight. As the blog post notes, "[a] fiber cable following a MV feeder will never pass more homes than the electric feeder was designed to serve. . . . Through the use of suitably selected optical components, a wholesale lit service could be offered to serve all of these homes and businesses from a 24-strand fiber cable."
Facebook estimates that its fiber robot will be able to build 1.5 kilometers to 2 kilometers per day on average. The blog post references several companies Facebook has worked with or plans to work with in developing the technology, including Quanta Services, NetEquity Networks, and ULC Robotics.
A key goal of the technology is to make internet connectivity available to the half of the world's population that earns less than $5.50 per day. But if the technology works as hoped, it's logical to expect that it might play a role in bringing broadband to remote unserved areas of developed countries.
Related Initiatives
Facebook isn't the first company to attempt to leverage electrical power infrastructure to support broadband, although no one else appears to have used quite the same approach.
A decade or so ago, some companies deployed broadband powerline technology, but were disappointed with the results and the technology has largely fallen into disuse. 
In a different approach, AT&T introduced AirGig technology several years ago which uses the powerline as a wave guide for millimeter wave transmission. The company initially sees AirGig as a backhaul technology for small cells but has indicated that the technology also could play a role similar to the one Facebook envisions for its new technology.  AT&T hasn't updated progress on AirGig in quite a while though.

The Facebook fiber robot also isn't the first example of the company developing technology aimed at increasing broadband availability. The company's Terragraph technology aims to provide fiber-like connectivity using wireless communications.