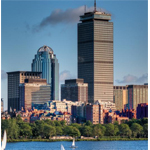 The City of Boston and Verizon have expanded an agreement that was struck in 2016. The carrier will enlarge its wireless network, bring Fios Internet and TV to neighborhoods not in the original franchise agreement, densify its small cell network and collaborate on Smart Communities solutions. The parties also detailed Verizon's presence at the Hub on Causeway and announced a $1 million donation to the Boston Digital Equity Fund.
These enhancements will double the original $300 million that Verizon agreed to invest in Boston. "Our partnership with Verizon reflects one goal: to make sure all of Boston's residents have access to the most advanced digital technology both now, and in the future," Mayor Marty Walsh said in a press release. "We're making sure Boston is the best digital city in the nation, and through partnerships with companies like Verizon, residents will have better, more affordable options, as we work together to create inclusive growth for our city."
Communities that now will be served by the Fios network are South Boston, South End, Allston, Brighton, Back Bay, Charlestown, East Boston, Fenway and Downtown. The carrier also will significantly expand its small cell network in areas of high customer use, with many of the devices placed on existing structures such as traffic lights and utility poles. The city will provide the carrier with a streamlined permitting process for the small cells. Verizon will provide Smart Communities products and services enabling efficiencies in traffic management, safety and energy efficiency.
The city and Verizon also said that Verizon will occupy 16 floors in the Hub on Causeway. Five of these will be used for incubators, accelerators and partners.