Sponsored Content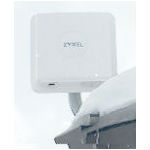 As service providers evaluate strategies to grow their broadband reach, especially in rural markets, a fresh look at fixed wireless is a smart move. In many instances, fixed wireless offers great lower-cost alternatives over traditional wireline broadband to reach the underserved and unserved in rural markets..
Options including  4G LTE – Advanced, offer high-performance wireless broadband access. Utilizing the 3GPP 4G LTE – Advanced standard, as well as emerging unlicensed Citizens Broadband Radio Service (CBRS) options greatly expands broadband access options for service providers.
These options require 4G LTE- Advanced compliant CPE gateways. Zyxel offers two 4G LTE- Advanced Fixed Wireless Access solutions that provide broadband connectivity to those hard to reach remote subscribers. These options include the LTE7461 4G LTE – A Outdoor Router and the LTE7480 4G LTE – A CBRS Outdoor Router.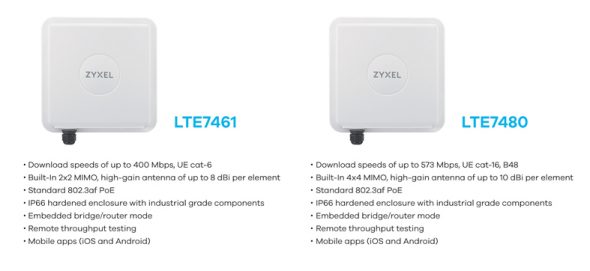 Features and Benefits of the Zyxel LTE-A Outdoor Router include:
Lightning-Fast Internet Connectivity
Zyxel offers high performing Fixed Wireless Access with 4G LTE – Advance and CBRS providing downlink data rates up to 573 Mbps with CBRS and downlink data rates up to 400 Mbps using 4G LTE – Advance Outdoor Router. Operators can deliver high speed Internet access up to six miles from the base station to an underserved subscriber.
High-Gain Antennas
The 4G LTE – Advanced Outdoor Router has built-in high gain directional Antennas that support 2 x 2 (4G LTE –Advanced) or 4 x 4 (CBRS) MIMO design to work under near non-line-of-sight conditions to increase the connection from the Operator's wireless network and the Subscriber's premises.
Easy to Deploy and Manage
The LTE7400 series 4G LTE – A CPE operates in bridge or routed modes for easy deployment where applications call for a specific operation mode. The LTE7400 series 4G LTE – A CPE is powered by Power over Ethernet (PoE) 12v PoE Injector which allows for data and power to use the same CAT 5e or higher cabling. IP67 rated enclosure form-factor for mounting in harsh weather environments. Remote management using industry standard Broadband Forum spec TR-069.
Non-Stop Connectivity
Use the LTE7400 series as an Internet WAN fail-over connection when accompanied with a Multi-WAN Business Access Gateway. 4G LTE- Advanced is a great source for Internet WAN backup option. A Multi-WAN Business Access Gateway can be configured to offer Internet WAN Fail-over using the LTE7400 series 4G LTE –A CPE.
To learn more about these options, register for our upcoming webinar, How to Leverage Fixed Wireless Broadband, scheduled for May 30th at 11 AM PST/ 2 PM EST. If you have any sales inquiries regarding LTE, please contact KGPCo.

Interested in publishing a sponsored post to Telecompetitor? Contact us or call 240-450-2161.