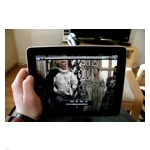 Releasing Part 2 of a first-of-its-kind study on Second Screen viewing, the National Association of Television Program Executives (NATPE) and the Consumer Electronics Association (CEA) revealed that leading TV show producers and distributors "view Second Screen as an inevitable part of the future."
Industry panelists at the NATPE Miami "see tremendous potential in content designed for synchronous viewing, the simultaneous usage of both a primary and second device, as well as asynchronous viewing," according to a press release.
Among the findings in Part 1 of the study, NATPE and CEA found that 91% of Second Screen viewers "access asynchronous program content, yet only 42% have tried synchronizing their content experience to live TV."
When it comes to realizing the potential opportunities some see in synchronous viewing, "producers are still searching for the best solutions to optimize technology to create a seamless experience for the viewer," the research partners point out.
Support for synchronous Second Screen viewing doesn't extend beyond sports, reality shows and news at present, which reinforces results in Part 1 of the study that showed 72% of consumers who access synchronized Second Screen content say it is appropriate only for certain kinds of shows.
Nonetheless, most study participants said they were excited about the opportunities "Second Screen content will provide creators, from building and sustaining a brand to providing a more meaningful connection between viewers and content." In Part 1 of the study, CEA and NATPE found that 63% of consumers who accessed synchronized content on the Second Screen said it made them feel more connected to the shows they watch.
Though respondents expressed concerns about the potential for Second Screen viewing to detract from the primary screen TV viewing experience, they also said they see other opportunities, particularly regarding asynchronous viewing, for Second Screen content to enhance the overall viewing experience. These include the potential to:
Create an extension of the program brand and serve as an incubator for new ideas.
Better involve advertisers, enabling the funding of truly immersive engaging content.
Transform viewers into brand ambassadors for programs through deeper engagement.
Change the way younger generations consume entertainment, and usher in more advanced Second Screen experiences – with the proper technology to support it.
Draw viewers into real-time participation, better allowing producers to make stories both with and for the audience, creating a sense of audience ownership.
"The results of this research, along with the findings on the consumer technology side that were presented at CES, offer a truly ground-breaking look at the opportunities and challenges we face with the Second Screen phenomenon," NATPE president and CEO Rod Perth stated. "This research offers great insight into the value of program brands and how to sustain them before, during and after they air, which ultimately benefits both advertisers and consumers."
Added CEA president and CEO Gary Shapiro, "Phase One of our joint research project helped identify key areas of consumer interest in engaging in the Second Screen experience. Part Two provides critical insights on Second Screen from the television production community. A deeper exploration of the intersection of these two studies will help device manufacturers and content producers identify a winning, strategic approach to develop this promising market by providing tangible benefits to viewers."
Image courtesy of flickr user bendodson.