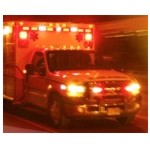 A new AT&T ESInet offering aims to bring a higher level of standardization to E911 modernization – a move that could help minimize modernization costs for public service answering points (PSAPs) while also making it easier for AT&T to achieve its own network modernization goals.
Key PSAP modernization goals include adding the ability to process emergency communications via text, photos and video but supporting that capability requires upgrading PSAPs to support IP communications.
"To drive reliability in a scalable repeatable way, we decided that a standardized nationwide architecture was the best way to move forward and move the needle on IP adoption," said Alan Benway, AT&T executive director of product management, in an interview.
ESInet is expected to be available in the second half of the year, but AT&T is announcing it now because there will be an "education process" for PSAPs about the offering and AT&T will be reaching out to PSAPs between now and then, he noted.
E911 Modernization
Some PSAPs already have undertaken the E911 modernization process to support IP communications and advanced emergency call processing, but others have struggled with obtaining funding to undertake modernization.
ESInet aims to simplify the process. And although Benway declined to discuss pricing, he noted that the offering should help minimize modernization costs by introducing a higher level of standardization.
PSAPs "don't have to hire a bunch of consultants to research the solution and do planning to re-invent the wheel," Benway explained.
Initially ESInet will give PSAPs the ability to process text messaging but AT&T is working with its supplier West Corporation (formerly Intrado) to add the ability to process video and photo emergency communications, Benway noted.
As the incumbent local exchange carrier in 21 states, AT&T is in a good position to help drive modernization efforts, as it has been responsible for aggregating 9-1-1 calls from multiple service providers and delivering them to the appropriate PSAPs.
As Benway explained, "We do that today with legacy technology. ESInet does the same function on an IP basis."
When functionality is moved to IP, AT&T gets more flexibility about where it can put call processing, Benway commented. With ESInet, call processing capability will reside in several AT&T strategic data centers that will receive traffic aggregated at individual AT&T central offices. The data centers also will back up one another, thereby enhancing disaster recovery capability.
"Over time we will reduce the dependency [on the CO infrastructure] as we look to move to more direct IP connection to the originating service provider," said Benway.
To obtain the full functionality of AT&T's ESInet offering, PSAPs will need to upgrade their network connectivity from TDM to dual MPLS connections, according to Benway. Additionally, they will need additional management software and hardware.
Benway added, though, that "there are efficiencies because we're pre-deploying – there should be less cycle time and more simplicity because they're connecting to a more standard service."
Some PSAP call centers have converted to IP based call handling equipment but if a PSAP is running older equipment, ESInet will provide "conversion mechanisms" to work with existing equipment, Benway said.
TDM-to-IP Transition
The ESInet offering could play an important role in supporting AT&T's TDM-to-IP transition plans. The carrier hopes to improve service and reduce operational costs by upgrading its network infrastructure, but converting PSAPs to function in an all-IP environment initially appeared to have a huge price tag, with no clear funding path. (Some PSAPs are administered at the municipal level, while others are administered on a statewide basis.)
By minimizing PSAP upgrade costs, ESInet should make it easier for AT&T to achieve its TDM-to-IP transition goals.
"My goal is to make sure that [PSAP] customers have a good option to upgrade to IP so whatever [path] the company and . . . industry go down, 9-1-1 won't have to slow things down or be a problem and we can have a graceful transition," said Benway.
Although AT&T plans to focus first on its existing 21-state footprint, Benway said the carrier also will look at offering ESInet nationwide.