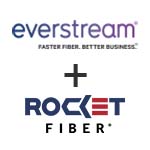 Regional business-only operator Everstream said today that it plans to purchase Detroit-based Rocket Fiber, which according to Everstream, has the largest fiber footprint in that market. The news helps solidify Everstream's focus on the Midwest, with a particularly strong focus on Michigan, where the company said it now serves all major markets.
It's a strategy that has been fueled, in part, by Everstream acquisitions and by other network investments. Everstream gained capital for expansion in 2018 when it was purchased by the Australian investment company AMP Capital.
Everstream Acquisitions
Since then, the company has acquired St. Louis-based Arch Fiber Networks. Also among Everstream acquisitions was an Indianapolis fiber network originally owned by Lightbound Fiber that had been purchased by data center operator DataBank.
In January, Everstream announced a $250 million investment to enter five new Midwest markets – Chicago; Fort Wayne, Indiana; St. Louis; Dayton, Ohio; and Louisville. A month later the company said it had launched service in Chicago.
Rocket Fiber's Detroit network is a fast one, supporting speeds up to 10 Gbps for residences and up to 100 Gbps for businesses – although it's not clear how the residential service fits with Everstream's business-only strategy. Dan Gilbert, owner of the Cleveland Cavaliers and chairman of Quicken Loans was an early investor in Rocket Fiber. The company is a high-profile competitive broadband operator, with significant deals in the Detroit area including a partnership with the NFL's Detroit Lions and its Ford Field stadium. Rocket Fiber won the 2018 Chairman's Award from the Fiber Broadband Association.
"Detroit has undergone extraordinary growth in the last five years, making the acquisition of Rocket Fiber and its strong presence in Detroit the perfect complement to our existing Michigan network," said Everstream President and CEO Brett Lindsey in a press release. "We've had a longstanding with Dan Gilbert and the Rock Family of Companies, including Rocket Fiber, Rock Ventures and the Cleveland Cavaliers. This opportunity allows us to continue to provide Detroit-area businesses with the high-capacity, low-latency connectivity services they've come to expect from their fiber network provider and expands their direct access across Midwest through the growing Everstream network."