Sponsored Content
Kris Apfelbacher, Business Development Manager
Dascom Systems Group
Kris brings 13 years experience working with Dascom Systems Group, from back-end technical support to front-end project management,  business development and operations. Kris currently uses that diverse experience to direct the Business Development and Sales of IPTV Solutions at Dascom, and is considered an asset to customers whether as an advisor or technical resource. Kris is a graduate of Gustavus Adolphus College. 
Many smaller broadband providers have embraced managed network solutions for a more efficient and scalable way to operate networks. Managed networks come in many forms, including managed video headends for video delivery.
There are many benefits for using managed network solutions. They can lower deployment costs, dramatically in some cases. And they can provide access to services that historically were only afforded to much larger tier 1 and 2 providers. Many companies have turned to master headends operated by managed video service providers for example, to help lower the cost of video delivery.
But there can also be issues, particularly when something goes wrong. Managed networks often involve using multiple vendors. There is the actual managed service provider (MSP). There are often dedicated circuits from transport providers that provide connectivity between the network operator and the MSP. And there may be other vendor solutions on both ends of the equation, managing applications. A video middleware provider for example.
When issues arise, service providers can sometimes get caught in the middle of a finger pointing blame game between these various vendors. Service providers are then left to determine the root cause of a problem and address it with the right vendor. It can be frustrating, expensive, and disruptive to customers.
There are ways to mitigate this complex problem. Network monitoring solutions from expert partners can provide critical visibility into the performance, issue management and utilization of the network, often identifying issues before they become problems.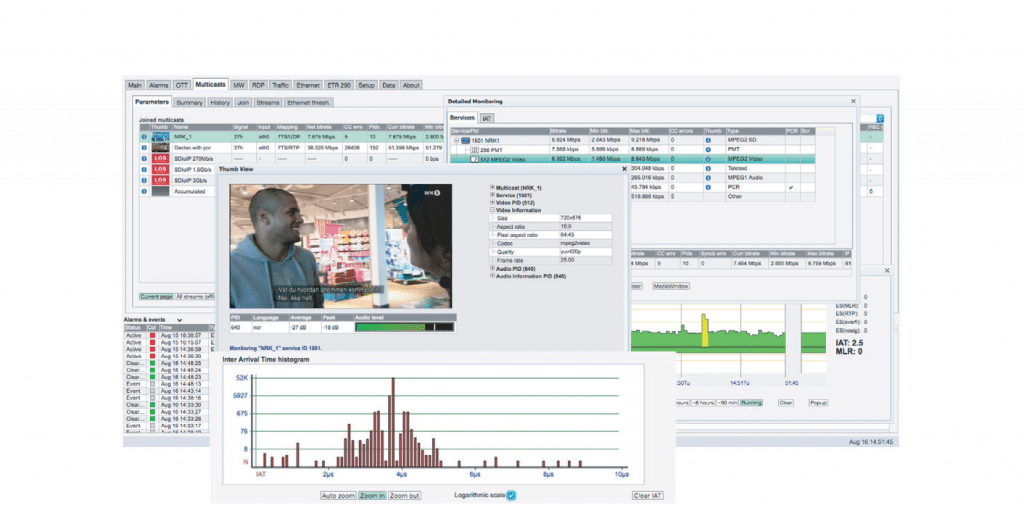 This is particularly important for video providers. There are a lot of different routing protocols in IP video and when content is sent across multiple networks with multiple demarcation points, the line can blurred for who is responsible for performance issues. Many factors can impact video performance across a managed network creating many potential, but preventable, faults.
Dascom Monitoring Solutions allow video service providers to identify the source of problems that can impact video performance, preventing the potential finger pointing blame between other vendors. Most importantly, video providers can provide early notification to mitigate problems that impact customers before they may notice it.
Key attributes for any effective network monitoring solution include:
Monitoring – not only for issues, but also for trends and utilization data for benchmarking
Real Time Alerts – key to identifying an issue before it becomes a major problem
Taking Action – when issues are identified, being able to take remote action to resolve them
Resolving Problems – having qualified and knowledgeable staff that can competently resolve problems
Contact Dascom to learn more about the power of network monitoring of your video network.
Dascom is a full-service integrator/video solutions provider capable of every stage of the integration process of video solutions – eliminating risk associated with multiple vendor involvement while maintaining optimal system functionality. Dascom capabilities include design/engineering, installation, training, project management, system monitoring, service and upgrades.