Ericsson has increased its 5G subscribers forecast from 1.5 billion by 2024 to 1.9 billion by that year. The upward revision of 27% was made in the June 2019 edition of the Ericsson Mobility Report.
The initial lower estimate was made in the November, 2018 report. "5G is definitely taking off and at a rapid pace," Fredrik Jejdling, Ericsson's Executive Vice President and Head of Networks, said in a press release. "This reflects the service providers' and consumers' enthusiasm for the technology. 5G will have positive impact on people's lives and businesses, realizing gains beyond the IoT and the Fourth Industrial Revolution. However, the full benefits of 5G can only be reaped with the establishment of a solid ecosystem in which technology, regulatory, security, and industry partners all have a part to play."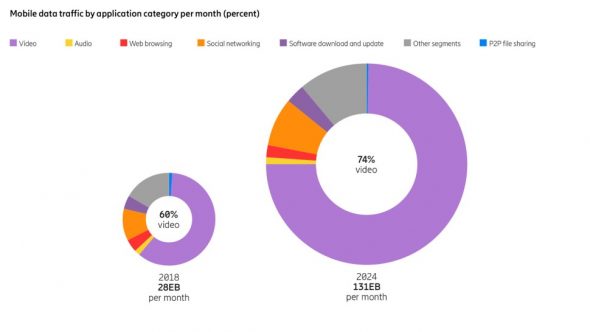 The report also predicts that 5G coverage will be 45% by the end of 2024 and could reach 65% due to spectrum sharing technologies that make  5G deployments possible on LTE frequency bands. Some service providers already have turned on 5G and some say that 90% of their footprints would be covered within the first year.
The momentum is under way, according to the report. It found that smartphones for the main spectrum bands will hit the market in 2019 and that more than 10 million subscriptions will be held by the end of the year. The fastest growing area will be North America, which will have 63% of mobile subscribers using 5G by  2024. Northeast Asia and Europe will be second and third at 47% and 40%, respectively.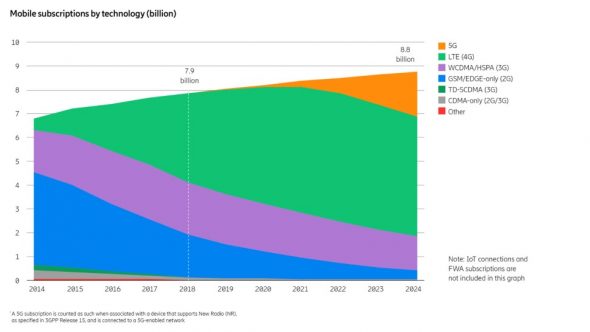 Total mobile traffic is up 82% in the first quarter of this year compared to the year-ago quarter. It will reach 131 exabytes per month at the end of 2024, with about 35% comprised of 5G. The number of cellular IoT connections is expected to rise from 1 billion now to 4.1 billion by the end of 2024. Forty-five percent will be massive IoT, the report says.
Image courtesy of flickr user Stefano Brivio.