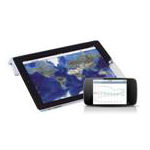 Ubiquitous, continuous access to mobile broadband networks is quickly becoming a fact of life in developed markets such as North America's, as well as a prerequisite for participating in just about any kind of business activity. Industry players and analysts are predicting explosive growth in mobile data usage will continue even as current statistics highlight the trend.
In the November 2015 North America Ericsson Mobility Report, Ericsson predicts total mobile data traffic will grow at a 40 percent compound annual growth rate (CAGR) from 2015-2021, rising from a current 1.3 to 9 exabytes.
Average Monthly Smartphone Data
Highlighting the significance of the trend to telecompetitors, Ericsson expects average monthly smartphone data traffic will grow at a 35 percent CAGR, rising from 3.8 to 22 GBs per month. Furthermore, North America smartphone subscriptions will grow at a 5 percent CAGR, increasing from 280 million to 410 million. Total mobile subscriptions will exceed 470 million by 2021 when tablets, mobile PCs and mobile routers are added in. Use of basic cellphones will all but collapse over the period, Ericsson says.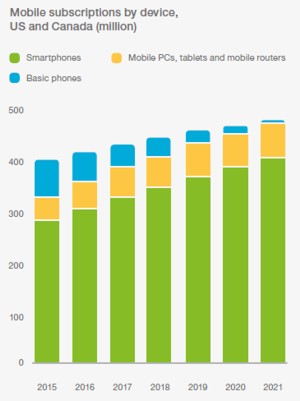 LTE Growth
Ericsson's latest North America mobility report also highlights the growing role 4G LTE is playing in fast growing mobile data access and traffic. The increased speed LTE networks and devices provide is facilitating mobile usage, as well as contributing to growing average monthly smartphone data usage.
Half of all mobile devices in the U.S. and Canada now use LTE. Among world regions, moreover, average monthly smartphone data usage is highest in North America. The 9 EBs of mobile data Ericsson predicts for 2021 is the equivalent of 900,000 copies of all the printed material housed in the Library of Congress, Ericsson points out.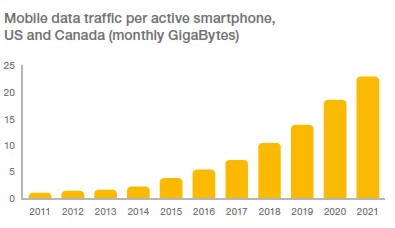 Ericsson expects the number of North America LTE subscriptions will more than double between 2015 and 2021. That will enable network carriers to roll out advanced services, such as voice-over-LTE (VoLTE) and continue to make progress when it comes to the capacity to provide ubiquitous, ¨always on¨ connectivity.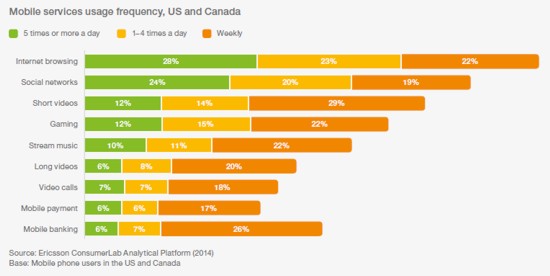 One resulting trend is the growing number of North American mobile users signing up for family plans. Offering connectivity across multiple devices, growing family-plan subscriptions will in turn contribute to growth in the number of smartphone and LTE subscriptions, as well as consumption of high-bandwidth mobile video, games, music and social media.
Mobile Communications Use
Turning to the amount of time spent devoted to different categories of mobile activities and applications, North American users continue to devote the most time making use of communications services. Voice calls, instant messaging (IM), voice and video calling over IP, email and social networking account for 30 percent of mobile application use in North America, Ericsson found. Ranking second, North American mobile users spend half that amount of time on games.
Drilling down deeper, traditional voice calls as opposed to those made over OTT VoIP services account for nearly 90 percent of mobile voice calls. The same is true when it comes to mobile text messaging: SMS as opposed to IM, accounts for 3 of every 4 texts in North America.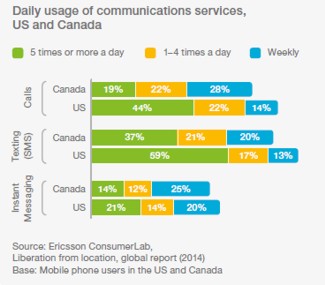 Furthermore, Ericsson found that time North Americans spend texting continues to grow. More than 1.9 billion text messages were sent in the U.S. in 2014. In addition, 60 percent of U.S. consumers and 40 percent in Canada text at least 5 times a day. Correspondingly, around 20 percent of U.S. and 10 percent of Canadian mobile users use IM at least 5 times a day.