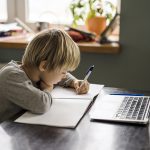 EPB of Chattanooga is providing network infrastructure for HCS EdConnect, an initiative in the greater Chattanooga areas that will bring free student broadband to about 28,500 economically challenged students during the COVID-19 pandemic. Participating households in EPB's service area will get a router and 100 Mbps or faster symmetrical services with no data cap.
The EPB free student broadband offering will leverage the FTTH network that EPB initially built in 2010. EPB is a municipally-owned energy and broadband provider that made headlines when it said that network would support gigabit speeds, making the company the first to offer such speeds residentially throughout its service area.
The students will get these services for ten years if the HCS EdConnect partnership reaches its full fundraising goal. HCS EdConnect partners include Hamilton County, the City of Chattanooga, BlueCross BlueShield of Tennessee Foundation and the Smart City Venture Fund. The latter fund includes Benwood Foundation, Community Foundation, Footprint Foundation, and Robert L. and Katherina Maclellan Foundation.
So far, the partnership has raised $6 million of the $8.2 million necessary for additional infrastructure and equipment for the project. Installations are set to begin immediately for the school year, which begins on August 12.
"EPB's mission is to enhance the quality of life and economic growth of our community," EPB Board Chair Warren Logan said in a press release about EPB free student broadband. "I can't think of a greater impact we could have than joining with our private and public partners to do what we can to help our students reach their full potential and prepare for their future careers."
The way in which school systems will deal with the ongoing pandemic is controversial and growing more so as the new school year approaches. Outside organizations have tried to help. In the early stages of the pandemic, service providers including AT&T and Verizon made announcements about connectivity to support education.