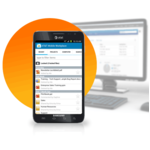 More than one-third of the senior U.S. IT decision-makers in an enterprise unified communications survey don't believe their organizations' infrastructure is up to the task of managing anticipated volumes of network traffic. The survey was conducted by UC and contact center specialist IR (Integrated Research, Ltd.)
Growing adoption of new, associated UC collaboration and productivity tools is contributing to the trend, IR highlights. Furthermore, the role UC solutions are playing in this regard is frequently underestimated or overlooked, according to the market research specialist. Businesses large and small are making use of applications such as Microsoft Skype for Business, which makes bandwidth-heavy video conferencing easier and more widely accessible, for example.
The diversity of digital fixed line and wireless communications devices and platforms makes for a complex ICT environment, however. Dropped connections, poor network quality and security threats, as well as unfamiliarity all factor into this and can result in wasted time, effort and money.
Enterprise Unified Communications Survey
IR survey respondents who doubted their organization's ability to fully capitalize on the latest UC technology cited a lack of pilot testing and insufficient training (30%), as well as an inability to meet infrastructure requirements.  One in four cited lack of support by executives and concerns regarding the ability of new technology to meet expectations.
UC vendors are recommending that organizations put effort into crafting better deployment plans, according to IR. Along this line, Microsoft's recently released Skype Operations Framework (SOF) provides a comprehensive guide and set of tools for implementing and managing reliable communications, IR noted.
SOF recommends organizations carry out a network readiness assessment and has an IR Prognosis UC Assessor to help ensure they meet or exceed Microsoft's minimum requirements for an implementation of Skype for Business.
"In order to drive digital transformation through UC, it is important to remove the doubt caused by the previously unknown issues lurking in that environment," commented IR CEO and managing director Darc Rasmussen.
"Organizations need executive commitment to deliver an optimal user experience and must invest in a performance management solution that can assess network readiness and be able to troubleshoot and remediate problems quickly."