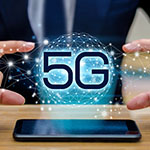 More than half of business decision-makers will choose their wireless provider based largely on the provider's 5G capabilities, according to new enterprise 5G market research from HarrisX.
According to the research firm, nearly half (46%) of business decision makers believe their industry will benefit from the rollout of 5G. Industries expecting to benefit the most from the faster speeds that 5G promises include telecommunications, emergency services, transportation and healthcare. Additionally, 57% of business decision-makers said they will switch their provider for 5G wireless service. These business leaders see Verizon and Apple as the 5G leaders.
Among other HarrisX findings:
88% of business decision makers (BDMs) are aware of 5G
While awareness was also high among household decision makers and wireless subscribers, only a minority of these groups saw 5G as important in choosing their wireless provider
Among both BDMs and wireless consumers, speed and reliability that enable higher quality streaming and wider network coverage were the most expected benefits of 5G
72% of BDMs say they are willing to pay for 5G while wireless subscribers are evenly split about its value
24% of wireless consumers will switch providers over 5G, while over a third of wireless subscribers are ambivalent about 5G.
"We are just beginning to grasp the power and impact of 5G, a technology that is expected to result in broader and deeper transformation than the decade of economic growth and new technology applications that 4G brought about," said Dritan Nesho, CEO of HarrisX, in a prepared statement.