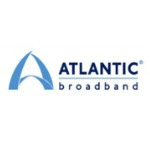 Atlantic Broadband is rolling out new home and small business WiFi services this month, the latest in a lengthening string of announcements highlighting the competitive battleground that WiFi has become. Rather than employing just one wireless access point on the customer premises, the Atlantic Broadband WiFi offering uses wireless mesh access points from AirTies, which results in improved coverage, speed and network performance, management explains in a news release.
AirTies' wireless mesh APs are able to cover entire homes, no matter their shape or size, according to Atlantic Broadband. In addition, video streaming is prioritized, eliminating buffering.
Atlantic Broadband's Enhanced Home and Business WiFi also incorporate WiFi noise cancelling and connection steering, which further enhances service coverage, reliability and the overall quality of the online experience. An app enables customers to monitor and manage their home networks, the company said.
Atlantic Broadband WiFi
Zooming in on small businesses, the Enhanced Business WiFi service is designed to enable small business owners to purchase, install and manage state of the art WiFi networks quickly and simply, Atlantic Broadband continues in the news release.
In addition to wireless WiFi mesh networking and a management app, this includes the latest, higher speed WiFi AC protocols and professional installation services that optimize placement of WiFi access points, as well as advanced troubleshooting tools and 24/7 support.
Meanwhile, Cable ONE just yesterday announced the launch of WiFi ONE, a wireless home networking platform that will enable better WiFi coverage across multiple devices throughout customers' homes
CableONE also incorporates some of the latest in WiFi networking tech and dedicated customer support in its new home WiFi service. Signal mapping will be used by certified technicians to determine the optimal location of WiFi ONE gateways in customers' homes. Systems will be configured on a custom tailored basis and may include installation of 4×4 MU-MIMO (multiuser multiple input-multiple output) antennas with signals carried by N or AC radios and MoCA extenders.