An evolving AT&T strategy has set out on a journey to maximize its business opportunities in IoT, network virtualization, entertainment/OTT, and network security, among others. Many of these opportunities are disruptive technologies, and AT&T says to take advantage of them, they must disrupt themselves.
That was a theme outlined at the recent AT&T Industry Analyst Summit, held at AT&T headquarters in Dallas in early October. In part I of this series, I discussed AT&T's entertainment strategy, which aims to leverage their DIRECTV business unit for mobile and OTT entertainment experiences, differentiating themselves from their competitors.
In this post, I'll discuss how AT&T is implementing strategies to change its culture and ultimately disrupt itself, so it can best maximize its opportunities in a rapidly changing business environment.
Getting the Workforce Ready for Disruption
If AT&T is going to disrupt itself, it must first disrupt its own culture, which is a difficult and long process to say the least. It starts with its people, and AT&T has undertaken a pretty significant retraining program for its workforce.
"I give us a B+," stated AT&T CEO Randall Stephenson, referring to a grade he would assign to their efforts to retrain their workforce. It's a monumental task. Stephenson said 150K employees have been targeted thus far, and they've completed over 2 million courses to date.
These courses are often self-administered and aim to help AT&T employees make the transition from the legacy TDM world of telecommunications to today's IP and broadband focused marketplace.
"It's a tremendous change, we think that we're going to go from last year, about 50% of our people being STEM, deep in technology, to 90% by 2020, 90% of our jobs will require STEM capability in the technology organization," said AT&T chief strategy officer John Donovan. "We're in the middle of this skill pivot."
AT&T is aiming to prepare its workforce for these stated company technology priorities (not an all-inclusive list), which were offered by Donovan in a presentation to industry analysts:
Data Powered
Software-defined
On-Demand

John Donovan

Mobile First
Virtualized
Open Sourced
Highly Secure
These are not the priorities that you would have found at a legacy communications provider just five or ten years ago. But to best maximize potential and profitability in today's and tomorrow's business environment, a provider's workforce must not only embrace them, but be skilled in the execution of them.
To achieve this 'reskilling' goal, AT&T has implemented quite a few programs, including:
A Learning Portal – platform for employees to take training courses
Skills Coaches – provided at geographic hubs for personalized guidance and coaching
Apprenticeships – offers real-world experiences in next-gen job opportunities
Hiring Process – hiring for the right skillsets, including adding reskilled employees to the candidate pool
"Our professionals have the opportunity internally through this subsidized program to move from an outside plant engineer to a data scientist, if that's their ambition," said Donovan. "We've been very pleased with how our folks have embraced the tools that we've given them to build the capability to make this evolution."
Donovan says 45% of AT&T technology and operations staff have made the pivot already to this reskilling objective.
Beyond Workforce Disruption
While extremely important and admirable, retraining the workforce alone will not achieve the disruptive approach that AT&T executives outlined. As a company, you must also embrace innovation and inject its benefits into the culture.
For AT&T's part, there are a variety of tools they are leveraging to achieve this, including the AT&T Foundry. The AT&T Foundry is an in-house innovation think tank of sorts, which acts as an innovation engine, injecting new ideas and thought processes into the larger AT&T culture.
The AT&T Foundry operates six facilities throughout the world, focusing on specific applications and ideas. Their latest facility opened this year in Houston, focusing on connected healthcare applications. Their Palo Alto facility focuses on network transformation and SDN.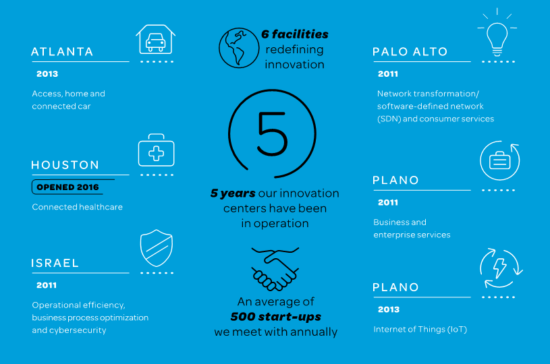 The goal is to identify and incubate innovative products, solutions, and processes, and hopefully disseminate their benefits throughout the broader AT&T culture. In some cases actual products, services, and processes come out of the foundries.
Igal Elbaz, AT&T vice president of ecosystems and innovation, identified a few during his presentation to industry analysts. They include robotic process automation, NumberSync, and AT&T's approach to CORD, among others.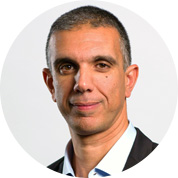 In addition to the Foundry program, Elbaz leads other innovation efforts that aim to help shape AT&T's disruption. His team has an active outreach program that meets with and evaluates over 500 start-ups each year, mining them for innovative ideas that could benefit AT&T.
AT&T also employs an employee crowdsourcing program, an Innovation Pipeline that allows employees to pitch product and process ideas to AT&T senior executive leadership. These ideas are then voted on from the 130K employees who participate in the program. To date, 37K ideas have been submitted, and over 2.8 million votes have been cast. AT&T has committed $44 million in funding for ideas that have come out of this employee crowdsourcing effort.
There are a lot of moving parts to this disruptive process for AT&T. They have accomplished a lot, but have a long way to go. It's a priority for AT&T CEO Stephenson. He seems to recognize the challenge.
"I'm not satisfied with our digital transformation project, but we've made a lot of progress," he said.