Approximately 1.4 million locations currently eligible for funding in the Broadband Equity Access and Deployment (BEAD) rural broadband funding program would not be eligible if NTIA were to change its definition of "reliable" broadband, according to an analysis by telecom consultancy Vantage Point Solutions.
Definitions Under Attack
At issue is whether fixed wireless access (FWA) service deployed in unlicensed spectrum bands is considered "reliable." Currently, NTIA doesn't consider it to be reliable because of concerns about the long-term ability of unlicensed spectrum to support network performance requirements. FWA providers say those concerns are overblown.
NTIA's definition impacts an area's eligibility for BEAD funding because areas lacking "reliable" service at speeds of at least 25/3 Mbps are considered unserved and eligible for BEAD funding, and areas lacking "reliable" service at speeds of at least 100/20 Mbps are considered underserved and are also eligible.
Reliable service is defined to include "cable modem/hybrid fiber coax technology, digital subscriber line (DSL) and fixed wireless using entirely licensed spectrum or a hybrid of licensed and unlicensed spectrum." (A previous Telecompetitor post explored this definition in more detail.)
BEAD rules also call for funding recipients to deploy fiber broadband except in certain cases. The rationale is that fiber is more future proof. But critics argue that it would be too costly to deploy fiber as extensively as envisioned. They also say the program should be more technology-neutral.
A change of rules in the fiber buildout requirement would allow BEAD funding to be used for FWA, potentially including FWA deployed in unlicensed bands – and that would impact areas eligible for BEAD funding.
The Analysis
Larry Thompson, Vantage Point CEO, shared some important information about this on a recent webinar hosted by the Fiber Broadband Association.
According to Vantage Point, 13.8 million locations are currently eligible for BEAD funding, including 7.8 million unserved locations and 6 million underserved locations.
If rules were changed to consider FWA deployed in unlicensed bands to be "reliable," the number of unserved areas would decline by 1.7 million, while the number of underserved areas would increase by .2 million, yielding a net new total of eligible locations of 12.4 million. (The number of underserved areas would increase because locations considered unserved under today's rules would move to the underserved category if FWA using unlicensed spectrum was available at speeds above 25/3 Mbps but below 100/20 Mbps.)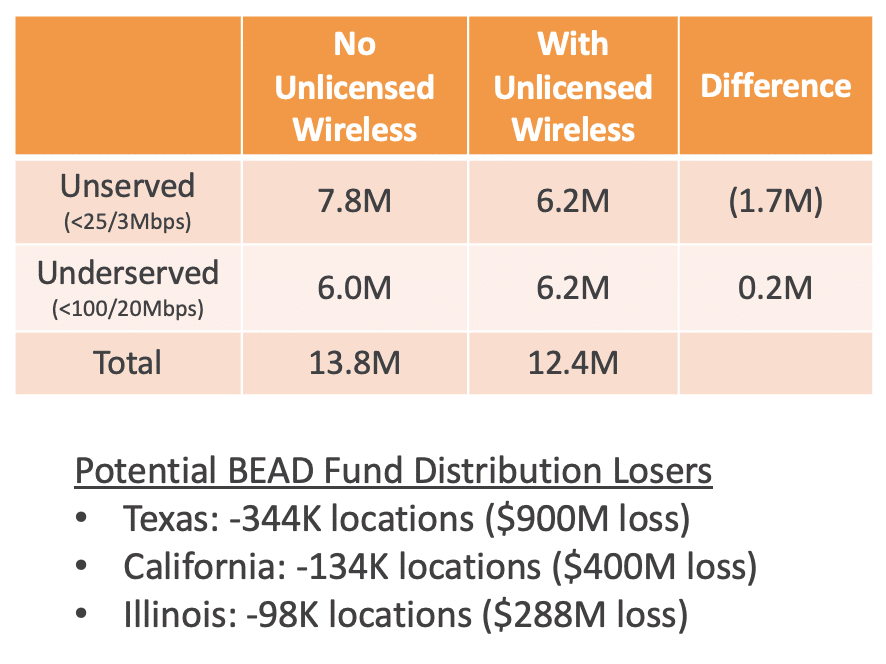 Implications of This Analysis
Thompson offered some examples of how a reduction in eligible locations would impact individual states. Texas, he said, would lose 344,000 locations currently eligible for $900 million in BEAD funding. California would lose 134,000 locations and $400 million in funding. And Illinois would lose 98,000 locations and $288 million in funding.
It's worth noting that those in favor of the rule change would say that's a good thing because it would free up money to help ensure that the BEAD program has sufficient funding to reach everyone. Whether or not the program has enough money to achieve its fiber deployment goals is an issue that is being hotly debated, with dueling studies coming out to support both sides.
It's also worth noting that some of the locations that have FWA in unlicensed bands available to them may be able to get speeds considerably higher than 100/20 Mbps. Ironically, under current rules, a provider could get funding to deploy 100 Mbps service to an area already served by FWA in unlicensed spectrum at higher speeds (although if the new provider deploys fiber broadband, it can easily support speeds of 1 Gbps or more).
A third point worth noting is that the FCC National Broadband Map data is based on information reported by providers, and not all providers may be accurately reporting that information. Thompson noted in an email exchange with Telecompetitor that he challenged an FWA provider's claim that it provided speeds of 1 Gbps to his home and the provider reduced the speed on the FCC map but didn't change the speeds for hundreds of neighboring homes.
Not all states will use the FCC map to determine eligible locations. Some are doing their own maps. In either case, NTIA clarified this week that each U.S. state will be required to conduct a challenge process against its eligible location database and noted that the process could include an option to challenge whether a provider's speed claims are accurate by, for example, using an NTIA-approved propagation model for FWA.
Clearly there is a lot for NTIA to consider as it weighs whether to change its definition of reliable broadband – and there is a lot riding on the decision.