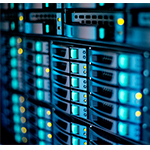 As wireless network operators gear up to deploy low-latency 5G services, edge data centers have become a hot topic. The expectation is that data centers will be needed at the edge of cellular networks and close to end users to quickly process data from end user devices, including wireless sensors. And as a new edge data center report notes, this raises the question of how all this will impact existing hyperscale cloud data centers.
According to the report, titled "Data at the Edge," both types of data center infrastructure will be needed.
The report comes from data management and storage company Seagate and State of the Edge, an industry association that includes edge data center companies such as Vapor and Packet and their suppliers.
"The cloud and edge are not mutually exclusive," the report argues.
The authors cite the hypothetical example of a factory automation system that generates a petabyte of data per day. "First-order value extraction" would be done at the edge, then data would be moved to the cloud where it could be combined with data from other edge data centers for "second-order learning" and insight.
Edge Data Center Report Findings
Edge data centers can be located in a wide range of locations, including locations as diverse as cell and barns, the report authors note. Edge data centers, they say, will often be positioned between five and 10 miles apart.
These data centers will require specialized functionality, according to the report, including:
Data management systems, including orchestration and automation systems. Orchestration systems will coordinate data gathered across multiple edge data center locations, while automation systems will enable certain actions to be automatically taken based on inputs from end user devices.
Enhanced security, including encryption, authentication and artificial intelligence (AI). The latter will be used to continuously scan new information for anomalies that may indicate intrusion.
Data activation, which will provide the functionality traditionally associated with historical reviews but in real time.
Self-healing capabilities to eliminate or minimize the need for technicians to visit the site to address problems.
Support for dynamic provisioning so that compute, storage and networking resources can be quickly provisioned as needed.
The need for edge data centers has given rise to a new crop of companies focused on this area, including EdgeConneX and DartPoints, as well as Packet and Vapor.
In addition, wireless operators such as AT&T and Verizon have indicated plans for edge data centers. It will be interesting to see if the carriers use those facilities only to support their own offerings or if they also use those facilities to host applications for business customers, putting them in competition with the pure play edge data center operators. Another question to be answered is to what extent the wireless carriers will themselves rely on the pure play companies.
Telecompetitor will be looking for answers to questions such as these in our coverage of edge data centers moving forward.