The cost to deploy fiber to unserved U.S. rural areas is about $61 billion, said Jim Stegeman, president of CostQuest Associates, an economic consultancy that specializes in telecom. Among CostQuest's credentials: the company created the cost model used to determine broadband deployment costs for the Connect America Fund (CAF) subsidy program.
Stegeman made his comments on a webinar titled "Rural Broadband Economics: A Review of Rural Subsidies" sponsored by USTelecom and NTCA – The Rural Broadband Association.
The $61 billion estimated cost to deploy fiber to unserved U.S. rural areas is based on deploying GPON fiber-to-the-premises technology and does not include ongoing operational costs.
Cost to Deploy Fiber to Unserved U.S. Rural Areas
Stegeman is the co-author, along with Steve G. Parsons, president of Parsons Applied Economics, of a new white paper intended to educate readers about the need for subsidies for rural broadband. Today's webinar essentially was a recap of research and analysis included in the paper.
Parsons noted that his firm studies six industries that involve what he called "the economics of linear density" – in other words, the number of locations served per road mile. In addition to telecom, these industries include road building, electricity, natural gas, water and sewage/waste management.
All these offerings are costlier to deliver when there are fewer people per road mile as in rural America, Parsons explained. Three of the six industries – telecom, roads, and electricity – involve subsidies in one form or another for rural areas, according to Parsons. The other three – water, natural gas and sewage/waste management — do not involve subsidies.
Tellingly, many people in rural areas get water and natural gas in a different manner than their urban counterparts – via wells and propane tanks, respectively. And instead of sewers, rural Americans rely largely on septic systems.
One thing all three of those industries have in common is that rural residents have viable alternatives to the services that people in urban areas receive.
"For the other three, there aren't any ready alternatives," observed Parsons about telecom, roads and electricity. Hence, the need for subsidies, he said. (Some might argue that there are alternatives to getting electricity from a public utility, but whether or not those are "ready alternatives" today, they certainly weren't at the time electric power infrastructure was deployed.)
Parsons and Stegeman estimate that without subsidies, service providers throughout a large portion of the U.S. would have to charge more than $70 a month for broadband service, including a substantial number that would have to charge more than $200 a month, as the map below illustrates. (Gray areas are unpopulated.)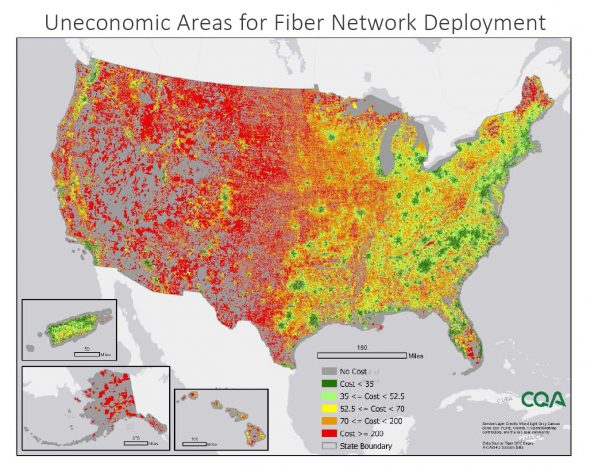 Are Subsidies Sufficient?
Telecompetitor posed a question on the webinar: Are current subsidies sufficient to cover the $61 billion cost to deploy fiber to unserved U.S. rural areas that Stegeman and Parsons estimated?
Stegeman avoided providing a direct "yes" or "no" answer, but did offer some context. The main subsidy program on which rural telecom providers rely is the $4 billion annual high-cost Universal Service Fund, which includes the CAF program – and as Stegeman noted, those programs call for carriers building out broadband to receive funding for six years. Doing the math, the total six-year budget would appear insufficient to cover the $61 billion estimated cost to deploy fiber to unserved U.S. rural areas, even assuming subsidies aren't expected to cover 100% of costs.
As Stegeman noted, there are some other funding sources, including the Rural Utilities Service, state programs and others. It's also important to note that carriers don't have to deploy fiber all the way to the home to meet USF/CAF broadband build-out requirements, and using alternatives such as fiber-to-the-node would reduce the $61 billion cost estimate.
On the other hand, that estimate does not include ongoing operational costs, which would add to the rural broadband price tag. And as Stegeman noted, operational costs can make or break a project.
He cited the example of the New NY Broadband Program, which awarded $500 million to carriers in that state. That program covered as much as 80% of a carrier's costs of deploying 100 Mbps service but did not include any ongoing operational funding. Some areas of New York received no bids in the competitive process that awarded funding and Stegeman attributed that to high ongoing operational costs for those areas.
The Stegeman/Parsons report is well worth reading. It contains a wealth of valuable broadband deployment data — including FTTP deployment cost estimates by road mile under various scenarios — and could be an important resource for policymakers, particularly those who question the need for broadband subsidies.
A replay of the webinar is expected soon.