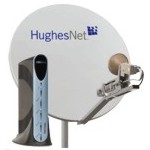 Satellite broadband provider Hughes Networks' parent company, Hughes Communications, is being bought by Echostar in a transaction valued at about $2 billion.  Echostar is paying $60.70 per share and assuming Hughes debt, which it expects to refinance after closing.
Hughes Networks operates HughesNet, a broadband via satellite service which is seeing handsome growth, due in large part to the broadband stimulus program. They also operate managed network services via satellite to business enterprise customers across the country. Hughes was rumored to be up for sale for a few months.
No stranger to acquisition of companies which strengthen its core satellite business, EchoStar and its affiliated companies have been growing their portfolio of companies for some time now. Hughes gives Echostar a portfolio of satellite broadband services to complement their video services offered through their affiliated company DISH Network.
"There is a unique and compelling fit between Hughes and EchoStar," said Michael Dugan, President and Chief Executive Officer of EchoStar. "With a rich engineering culture, an extensive fleet of owned and leased satellites, and experienced personnel in communications centers around the world, the combination of EchoStar and Hughes will create a powerful leader in video and data transport."