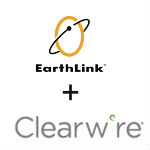 Earthlink will offer a consumer 4G wireless offer through a new wholesale arrangement with Clearwire. The offer, scheduled to launch sometime in 2013, will initially focus on fixed wireless service for in-home broadband, but will eventually offer a mobile 4G service as well.
"Customers are increasingly equating broadband services with wireless services and our wholesale agreement with Clearwire will allow EarthLink to offer the wireless products and services necessary to remain a leader in communications services," said Michael Toplisek, Executive Vice President of Products & Marketing for EarthLink in a press release. "The 4G broadband speeds and urban and suburban network focus aligns well with our long-term strategy for growing our customer base. We are excited to leverage Clearwire's leadership in 4G for both WiMAX and LTE in the future."
Clearwire Wholesale Partners
Clearwire is in the process of building a 4G LTE network to augment their legacy WiMAX 4G network. They are eagerly looking for wholesale partners like Earthlink to bring retail wireless services to end customers. Beyond their long wholesale relationship with Sprint, Clearwire also counts Leap Wireless, United Online (NetZero), and Simplexity, among others, as wholesale 4G partners.
Once a key cable industry partner, Clearwire has virtually lost their cable wholesale partners, including Comcast and Time Warner Cable, as they have now chosen to partner with Verizon Wireless.
"We're thrilled to continue building momentum for our wholesale 4G business as the premier wholesale provider of 4G capacity to carriers, ISPs and other service providers in the U.S.," said Don Stroberg, SVP of strategic partnerships and wholesale at Clearwire in a press release.
Earthlink Wireless History
It's an interesting move for Earthlink, who has put more attention recently on their Enterprise and SMB business lines, over their consumer business. They have struggled in the post dial-up Internet world to find a broadband connectivity solution for their consumer ISP business.
Earthlink is also no stranger to wireless ventures. They were major players in the municipal WiFi movement, at one point managing several municipal WiFi projects, including the high-profile city of Philadelphia project. Those efforts have since floundered.
Earthlink also was a partner with South Korea's SK Telecom in the high profile Helio wireless MVNO venture, which they moved away from in 2007 after losing tens of millions of dollars.
With this latest move, Earthlink joins a long list of companies who want to leverage the ongoing movement to mobile broadband, powered by 4G technology.