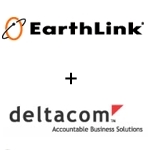 Looking to diversify its business beyond its core ISP services, Earthlink announced the acquisition of ITC-DeltaCom, a Huntsville, Alabama based data CLEC. The transaction is valued at approximately $516 million, including assumption of $325 million in ITC-DeltaCom debt.
"The acquisition will enable EarthLink to create a leading IP infrastructure and solutions company by combining its existing ISP and IP-focused businesses with Deltacom's integrated communications business," Earthlink said in a press release.
ITC-DeltaCom operates a16,400 route-mile fiber optic network in the Southeast U.S.  It's network assets include a 14-state SONET backbone with 35 metro fiber rings, 294 collocations and 20 voice and data switches. ITC-DeltaCom counts over 32,000 small and mid-size businesses, enterprise, and wholesale carriers as customers.
According to Earthlink, the combined company, on a pro-forma basis for the 12-month period ended June 30, 2010, would have generated approximately $1.1 billion in revenue, $588 million of which comes from its combined business services segments.
The acquisition follows a series of similar transactions, where multi-state fiber asset rich communications companies are being scooped up by a variety of legacy telecom carriers for growth and diversification purposes. Windstream has been quite active in this regard, and there has been significant transaction activity among CLECs recently, including MegaPath, Speakeasy, Covad, PAETEC and Cavalier, to name a few.