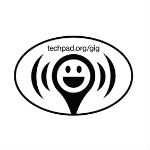 It didn't get much publicity outside its local area, but last week's launch of a gigabit wireless network in Blacksburg, Virginia is an important one. The network, launched by local technology incubator TechPad, will provide 802.11ac connectivity supporting individual connection rates as high as 1 Gbps. Blacksburg (population 42,600) is the home of Virginia Tech.
"There are now three key nodes to the wireless network which are active and have coverage over about 40% of the downtown," explained TechPad President Bob Summers in an email to Telecompetitor. "The ultimate goal is for the majority of the citizens of this community to have access to gigabit networking high capacity and low latency."
Currently only a few end user devices support the new 802.11ac standard, including the Macbook Air and Samsung Galaxy S4, Summers explained. Nevertheless he said the network already has "several users" of gigabit WiFi. Others can connect to the network using traditional WiFi.
Summers described the gigabit wireless network as a three-year pilot project.  "The goal is to identify the demand for such a network and find sustainable sources of revenue for it to go beyond," he said. "This is a testbed for high-performance Wi-Fi networking, which is attracting new startups and research capital."
Initially at least, end users will connect to the network at no charge, but TechPad hasn't ruled out that possibility of charging for connectivity in the future.
Another interesting aspect of the network is that it was funded through crowdsourcing. Earlier this year TechPad announced plans to build the network, inviting supporters to contribute financially through a web interface. A total of $92,400 was raised, with 181 individuals and nine corporate sponsors including Cisco Meraki participating.
Although the network has only been operational for about a week, Summers shared some early results. "The Wi-Fi space is very noisy so managing a quality outdoor public Wi-Fi system is no easy task," he noted. "We have started to ask people to turn off their access points and use the free system which is higher performance. The more we can get to turn off the better the service for all.
"We track about 300+ unique SSID over a seven-day period. Many of these are people driving by in cars with their phone's access point on. The system has seen over 2,000 unique devices."
Backhaul for the system is provided using outdoor rated solid copper Cat6 and 802.11n via mesh, with Meraki mesh networking used to "get to the hard places," Summers said.
TechPad has created a mascot/ logo named "Giggy," pictured in the graphic accompanying this post, to raise awareness of the network.
Future plans for the network include making people aware of what they can do with gigabit networking in terms of application development, Summers said. TechPad is working closely with US Ignite and Mozilla Foundation toward that goal, he said, citing the Fitnet gigabit-enabled fitness application as an example.
Potentially 802.11ac could be a good complement to fiber-based gigabit networks that are beginning to appear in more and more communities. While it doesn't have the range of fiber-based solutions, it should be less costly and could be a great option for high-traffic areas.
It will be particularly interesting to see what new applications are enabled when gigabit connectivity becomes untethered.